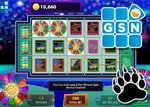 The global leader in social online casino games, GSN proudly announced the release of the Wheel of Fortune Slots: The Ultimate Collection.
The announcement gave mobile users reason to celebrate since the new slots will be available to Android users free on Google play and for iOS users is can be obtained from Amazon App store. There is also an existing, real-money Wheel of Fortune slot available to those who are interested.
The brand new GSN Wheel of Fortune slot combines a variety of games, each themed to compliment the televised show. The much loved Vanna White remains the in-game entertainer, and online players will now have the opportunity to win cash prizes of up to $100,000 in daily sweepstakes.
What GSN achieves is bringing big-win excitement to social players who enjoy casino games, and, with the ultimate collection, they also have the chance to enjoy instant prizes that include from $5 to $100 in gift cards from top retailers or through the ultimate scratcher the daily sweepstakes offer cash prizes worth $5,000 up to $100,000. Players receive an ultimate scratcher every day once they log into the app and all that is needed is to match three symbols in order to win one of four prizes.
The General Manager of GSN Games, Stuart Lewis shared in a press conference their excitement to bring social players the Wheel Of Fortune slots and also said that no other app combines such an incredible range of themes slots with an elegant host such as Vanna White. With the opportunity to enter and win huge daily prizes consisting of real cash and gift cards there is no doubt that players will enjoy the brand new spinning experience on the Wheel of Fortune games.
GSN Games Have A Great Deal To Offer
GSN Games offers cash tournaments and social casino games created to fuel every player's innermost winner since its launch in 1999. While their gaming products remained the most popular with mobile players its bingo cash and casino features amongst the Top 10 iPad gaming apps, and currently GSN Games ranks as the number 4 social casino publisher. GSN reaches an audience of 47 million daily consisting of highly engaging players and with the launch of Wheel of Fortune: The Ultimate Collection clearly shows that these figures will increase tremendously.
Vanna White shared that she firstly loves her job and the ability to encourage all the contestants, plus she is hugely excited about being able to share some passion with mobile users. She also added that she had no doubt that everyone will love the new, innovative, fresh spin on America's most enjoyed game.,/p>
Wheel Of Fortune is one of the most watched game show in America and its first episode was broadcast in January 1975. Its popularity continued to increase since audiences were captivated by hidden phrases that had to be guessed by contestants in order to win outstanding prizes.