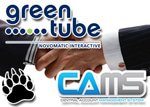 A new payment processor for the North American Market has been chosen. Greentube a subsidiary of Novomatic has chosen CAMS and this will now be available as a deposit method at top Canadian online casinos.
Central Account Management System (CAMS), a payment processing partner will now become the new processor for the North American market after being chose by Greentube a subsidiary of Novomatic. This new partnership will allow Greentube to use all of the CAMS payment solutions for online casino in-game purchases and will make this a very popular deposit method for Canadian gamblers.
Gabriel Cianchetto, the Greentube North American President of Market Development has said that the new partnership deal is excellent and that it is imperative that they have a secure, simple, and regulatory compliant turn-key system in place for processing the in-game purchases that keep players engaged and loyal. CAMS' industry-leading platform was chosen because it was the clear choice and Greentube are looking forward to working with the payment processor for many years to come.
Matthew Katz, Chief Executive of CAMS stated that Greentube is making a significant impact on the iGaming industry and they are proud to be able to partner with them to help make the experience that they provide to both casino operators and players as seamless as possible.
CAMS' offers an extensive service that extends well beyond just payment processing. They are well known for their verification and security measures which they have taken to different heights. They have created their own "Know Your Customer" verification process to help ensure safety and security at all time. They also offer a range of other services including geolocation and payment connectivity. CAMS is an excellent choice for the North American casino market as they are regulatory compliant and they offer an amazing turn-key system.
CAMS is the leader when it comes to providing online gambling and lottery operators with payment connectivity, geolocation, KYC verification services and they are delighted to be able to announce that they have added Greentube to their growing list of A-list iGaming Clients.
Greentube is a leading developer and supplier of gaming solutions for internet and mobile devices. They focus on casino games such as slots, table games, and video poker. They were founded in 1998 and are a subsidiary of Novomatic, one of the largest integrated gaming companies in the world.