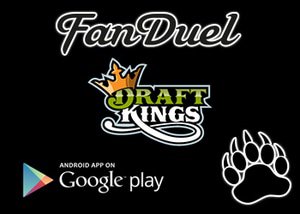 Google has quietly approved Daily Fantasy Apps on their Play Store in time for the new NFL Season. FanDuel and DraftKings are now available. Could this be the beginning of a change in Google's gambling policy?
Google's policy on gambling states, "we don't allow content or services that facilitate online gambling, including but not limited to, online casinos, sports betting and lotteries, or games of skill that offer prizes of cash or other value."
Now a day before the kick off of the brand new NFL season, Google has quietly approved not one, but two fantasy sports apps, FanDuel and DraftKings for their Play Store. As this was kept fairly quiet, we haven't worked out whether Google was trying to be inconspicuous with this approval especially considering they has already clearly banned such apps. Prior to their approval, if Android users wanted to use daily fantasy apps they had to turn off their security settings and install the app on a separate file.
While Google may have kept things quiet, both of the fantasy sports site were keen to announce the approval of their apps and they gladly announced the news to all their customers. Both FanDuel and DraftKings took to Twitter to announce their news and provide download links for all their followers.
The approval of both apps allows players to open an account, fund it, and place wagers on events. Information provided by a reliable source claims that both the FanDuel and DraftKings app are part of a "closed limited pilot" for Google's US app store and that the policies regarding gambling are still the same. It remains to be see whether this "pilot" will lead to a change in the gambling policy, but should these apps prove successful, we could very well see the King of search revising and making changes. As of now, the daily fantasy apps are only available to US customers.