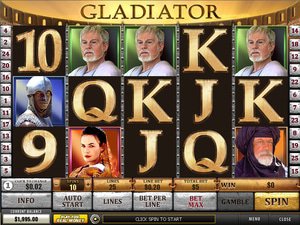 Have you been trying to reach the all time winning record on the Gladiator Jackpot Slot? Well, the stakes have now been set pretty high...about $3.3 CAD million higher!
YES, this jackpot has been won by a person who struck luck big time on this progressive slot. This has broken the record for the highest payout from the Gladiator Jackpot Slot. The winner, who has over 3.3 million reasons to be totally pumped, brought his luck to Winner.com and scored on Playtech's now famous slot game.
Playtech is well known for big payouts with their line up of progressive jackpots. Site's like Casino Tropez and Windows Casino have chosen Playtech wisely, specifically for this reason.
The Gladiator Jackpot Slot was released five years ago, and was given its name from the historic movie (that's still a must-see today) Gladiator. The slot incorporates specific scenes right from the movie, to engage its players. The Gladiator Jackpot Bonus and Coliseum Bonus both reveal 9 helmets to the player. They are presented in 3 different colors: bronze, silver and gold and each color represents a different prize value. If you uncover 9 gold helmets, your heart will skip a beat as you win the Gladiator Progressive Jackpot.