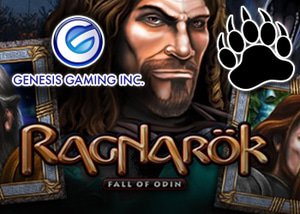 Genesis Gaming proudly brings a dual release of the dramatic action and fast paced gameplay of Ragnarok, their latest video slot machine, to the Quickfire Network.
For those who know their Norse mythology, Ragnarok, translated as 'Fate of the Gods', is the final war waged between their pantheon of gods, destroying the planet with natural disasters so that everything can start fresh. Now all the action and thrills of this massive battle have been brought to the world of online casinos.
Exciting Slot Machine Action Rooted In Norse Mythology
This 25 payline game brings forward a rune collection mechanism that rewards players for the time they put in playing by offering them ways to modify the gameplay through additional levels and new features. It also boasts three major game mechanisms that alter the game in the player's favour: Free Spins with Odin Symbol Substitution, Free Spins with a Thor score Multiplier, and Freyr Fire Battle which grants a multiplier and awards game credits.
While the game did have an exclusive release with Unibet casino first, it has already proven itself to be one worth taking part in as it's 'Top 10' performance shows the love that players have for it. Within the first week of release, 40% of players had fully completed their rune collection and many more were well on their way to being able to pick how they wanted he game to play out.
Scott Sims, Head of Global Design at Genesis Gaming, explained what drove them to create such a wealth of options in their new game, "in designing this game, we wanted to combine the levelling mechanic of popular social and video games, and also provide players the opportunity to choose their favourite way to win. By improving the features already unlocked as they unlock new levels, we are giving players that sense of earned reward that only games with levelling features provide."