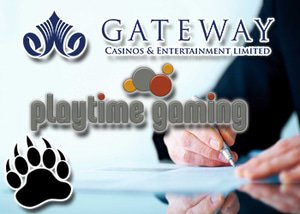 Gateway Casinos and Entertainment Limited now lead the way in being the most diversified and largest gaming company in Canada.
They have now increased their total of gaming properties, slot machines and tables together with their business partners, and in addition will now operate 1000 hotel rooms, 36 restaurants and have over 3800 employees. They are excited to build upon their past towards an even bigger and brighter future and on Dec 23, 2015 announced that they have acquired Playtime Gaming, more commonly known as Playtime.
A Success Story Looking To Continue Throughout 2016
The acquisition of Playtime Gaming will add an additional 6 new properties to the company's portfolio and will make them the most diversified and largest gaming company in Canada. Gateway now has 18 different gaming properties and along with their business partners operate over 6,100 slot machines and more than 200 tables. Their strategic acquisition of Playtime marks the next step of the company's growth, which has improved customer experience as well as profitability.
Over a 3 year period that ends in the fall of 2016, around $250 Million will have been invested in total so as to establish their Gateway properties as culinary, gaming and entertainment destinations. Along with this acquisition of Playtime, the company's distribution will now reach an additional four new markets and extend to the Lower Mainland and Vancouver Island.
Gateway CEO Tony Santo said it was an exciting day to welcome Playtime and to have them included in their growth strategy. Gary Gordon CEO of Playtime Gaming said that Gateway are a leader in gaming across Canada and that he was excited for his company's customers and employees, as they join forces becoming part of a best-in-class entertainment and gaming company.
So as to ensure a seamless transition of employees and operations, Gateway have asked Playtime's former owner Tom Nellis to continue to be available in an advisory capacity as the transition proceeds. This will be done in conjunction with Jag Nijjar Senior Vice President of Operations for Gateway, whom Playime Gaming properties will now report to. Later in 2016, two new major redevelopments will be opened in the West Edmonton Mall and Edmonton's Ice District , and they will also be participating in Ontario's casino modernization process.