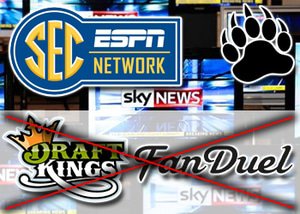 The SEC Network has confirmed that DraftKings and FanDuel commercials will no longer be aired as they represent a form of gambling.
The SEC league's commissioner has declared that the daily fantasy sports games represent a form of gambling and this news was reported by WVTM-TV, Birmingham, Alabama, who are an NBC affiliate. According to SEC commissioner Greg Sankey, daily fantasy sports games are a form of gambling and a form of skill game but there are some questions about it. He went on to say that he thinks that it is appropriate for the SEC Network, working with ESPN, to remove DFS advertising on the SEC Network.
DFS games have always been classified as games of skill rather than chance and this has kept them outside US laws that prohibit sports betting. DraftKing's co-founder and CEO, Jason Robins, has consistently compared DFS games to picking stocks. Sankey stated that NCAA athletes were facing loss of eligibility for participating in daily fantasy games, and he felt that it was no longer appropriate that the league should profit from them. He said that there is an NCAA bylaw related to sports betting that picks up a lot including fantasy sports, and they felt that the appropriate position for the league was to not include them.
Commericials for DraftKings and FanDuel have been everywhere across America and both companies spent a whopping $27 million between them for approximately 8,000 television spots during the first week of the NFL season. Fortune have reported that they spent a combined $100 million during the six week period from the 1st of August to the 15th of September. You can read more about this in our latest DFS article
Last week, Rep Frank Pallone Jr asked Congress to investigate whether these sites are breaching restrictions that have been put in place on online gambling.