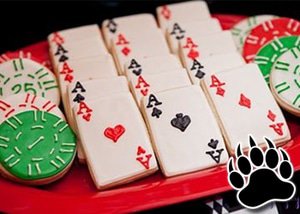 Are you ready for it? An upcoming pop-up in London called The Diner is going to allow gamblers to bet with food.
This pop-up will be holding a promotional event aptly named "Raise the Steaks" which will be a 1950's themed party that is going to be all about gambling with burgers and chips. Chips being the English term for what Americans like to call French fries. All participants will be given a free burger and "chips" with which they can gamble to win even more food. It all sounds a little hard to believe but the event itself isn't about creating a food casino, it is a promotional event to launch a brand new 1950's inspired online gambling site called 777.
Event organizer Sivan Finn Shaley released a press release where he stated, "777 is all about combining the good old times of the 50s with the fun and thrills of a casino." He also went on to say that there is no better 50s icon than The Diner, and what could be better than combining an "all American" food experience with the fun of classic casino games."
The rules for the food casino event are really quite straightforward and similar to traditional bricks and mortar casinos. Gamblers who lose all of their currency will be able to buy back and in the case of the "Raise the Steaks" party, food will be the currency and guests will bet with chips to try to win milkshakes, sides, and even steaks from the menu. Those guest who run low on chips will be able to buy back in for a £5 donation to Cancer Research UK.
About 777 Casino
777 casino is a brand new online gambling site licensed by Gibraltar and the UK Gambling Commission. They are part of the 888 Group and are currently offering all new players a $21 no deposit bonus as well as a sign up offer of 100% up to $200. This is a NetEnt casino with plenty of fantastic games for Canadian players and we are sure there will be some excellent festive online gambling bonuses at all the NetEnt casinos too.