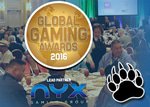 The winners of the G2E Global Gaming Awards 2016 have been announced with many big brands getting recognition. We report on the 888 Casino award, IGT award, Playtech award and more.
The Global Gaming Awards reward the land-based and digital gaming communities. There were twelve awards in total handed out at this year's ceremony in Las Vegas and all the winners had to impress a panel of 60 independent judges, whose backgrounds span the entire gaming industry. The votes were audited by KPMG Gibraltar.
888 Casino Award Challenges PokerStars
The 888 Casino award was for the Digital Operator of the year and it went to 888 Holdings for 888poker.com. This is the first Global Gaming Award win for an operator seeking to challenge the dominance PokerStars has held in the online poker industry.
IGT Award For Casino Product of the Year
Casino Product of the Year saw IGT's Playspot receive the award. The IGT product displayed the value casino operators are placing on the development of mobile products. IGT also picked up a second award in the Land-based Industry Supplier category thanks to its innovations in slot play as its Wheel of Fortune slot celebrated its 20th anniversary.
Playtech Award For Digital Industry Supplier of the Year
In the very competitive Digital Industry Supplier category, Playtech came out on top and scooped this award. In 2015, they came in as a runner up, and this shows that the judges were clearly impressed by the excellent financial results it has as well as the impressive range of supplied verticals it had to show.
Digital Product of the Year Goes to Microgaming
Digital Product of the Year went to Microgaming, as it did in 2015. Microgaming came out ahead of the competition thanks to the success of its fully customizable Quickfire platform that continues to grow each year.
NYX Not Left Out of G2E Awards
The Digital Gaming Innovation category award went to NYX Gaming Group who saw off stiff competition and took the award for its Witch Pickings slot. This game is known for its immersive graphics and bonus engine offering endless mix-and-match feature combinations.
NYX Gaming was also the lead partner for this year's Global Gaming Awards.
Unibet Wins First Ever Global Gaming Award
The award for Digital Acquisition Program of the Year went to Unibet and this is the first every Global Gaming Award won by this company.