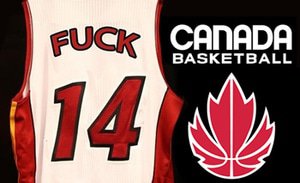 There's no misprint happening here. No, it's not an April Fool's Day joke. A Canadian college basketball team's Brazilian-born basketball player is finally allowed to use his legal last name. Coincidentally, it's a bad one in English.
For many players, being good enough to play at All-Canadian national levels would be an absolute dream come true. That's what Brazilian player Guilherme Carbagiale Fuck (pronounced Foo-Key) has been working towards his entire career thus far, making short work of being considered among the best, he has been scoring an average of 18 points per game.
"I Want to Spread the FUCK Last Name." - Guilherme Carbagiale Fuck
Until he came to North America, there was no problem. From German origins, the word translates to 'fox'. Media outlets, announcers, and more have been baffled whenever his name comes up, which is often. In order to avoid controversy in small town Wyoming where he started out, he was asked to use his first and middle names only.
College players get noticed and drafted for play in the big leagues and every one of those names goes on their jersey. Guy takes great pride in his family's heritage, saying, "I want to have kids. I want to spread the Fuck last name." He further explained, "it's my last name. I'm proud of it. Doesn't matter if it means something bad."
People Think it's a Typo !
Knowing that the name may cause confusion, the Medicine Hat Coach Craig Price was ready for some questions and phone calls but maybe not as much attention as it has. He said, "We get a lot of looks about his name. I can't tell you how many times I have to confirm the spelling and the pronunciation of his name. It's a constant thing. People think it's a typo."
He also recounted an interesting call he received, "I had a phone conversation with this one guy who wanted to make sure they had it right before they engraved Fuck onto an award." With all of this behind them and his name now officially going on his jersey, this talented player can focus on his career.