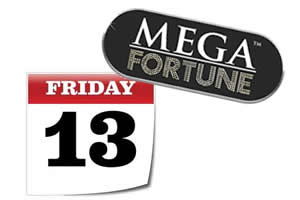 Friday the 13th is hailed as unlucky by many superstitious players but one player's expensive mistake paid off in a huge progressive jackpot win.
A Norwegian player managed to have the luckiest day of his life when he added an impressive 3 million Euros to his bank account on what others call the unluckiest day of the month. The casino, NorskeAutomater.com, also gained notoriety as this was the first progressive jackpot ever won through their site.
The story of error becoming fortune is best told by the player who described the win in an interview. "I don't view myself as a superstitious person, but Friday the 13th turned out extraordinary. I wanted to deposit 1000 NOK, but I made a mistake and deposited 1000 euro instead, which is 8 times more. I wanted to cancel the transaction, but it was too late. I also got 2000 NOK in bonus on my first deposit, so I had 10.000 NOK to play with. My favourite game is South Park, but I decided to play Mega Fortune instead since the jackpot was so large. The rest, as they say, is history. It's like it was meant to be."
The game he played is one of the most well known from NetEnt and holds a place in the Guinness Book of World Records as having paid out the largest progressive slot payout ever, 17,861,813 Euros, on January 20th, 2013. Mega Fortune is in it's 7th year of making millionaires out of it's players and doesn't show any sign of slowing down any time soon as this win resets the seed amount to 250,000 Euros. Even if the jackpot is won immediately after the reseed drops, a player will be incredibly lucky to be lining their pockets with the casino's money.
Now that this huge jackpot has been won, attention is turning to other progressive jackpots that are swollen to the point of being ready to burst. One such example is Microgaming's Mega Moolah which seeds at $1 million and has 23 multi-million dollar wins of it's Mega Jackpot, and noteworthy wins approximately every 11 weeks. Typically the big payout comes between $3 and $4 million, but has gone as high as $5,882,594, and has currently climbed to $6,345,380. Will this be the next progressive slot game to turn someone's unlucky day around?