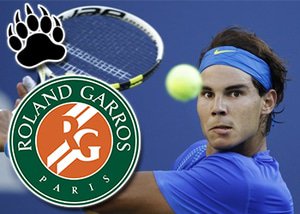 Is Rafael Nadal on track to win the 2016 French Open? After a run of strong results, many of the betting odds are speculating that he has been able to reverse his decline and is now back competing with best.
Tennis expert, Dan Weston has examined Nadal's data during 2016 with a view to assessing his chances of coming back to win the French Open 2016.
Nadal has 15 defeats in 2015 and the issue seemed to relate to his serve as opposed to return. His main issue was severe underperformance which saw him losing sets and matches. However in 2016 there has been a significant change. Nadal has currently won 63.1% of services points and has saved 64.9% of break point chances. This is 4.6% above expectations considering his performance last year.
On return, Nadal has converted 44.0% of break point chances which is more than his 42.8% figure in 2015. The figures actually show that he has underperformed by 2.3% on his expected returns which was 43.4% of return points won.
Overall in 2016 he has over performed by 4.7% on serve, and underperformed by 2.3% on return. This is a 2.4% total over performance compared to a combined underperformance of 2.5% in 2015. What this means is that he has gone from being poor on key points to strong on key points from 2015 to 2016, and this 4.9% shift could have a significant impact on his results this year. On his favoured clay in 2016, Nadal's statistics look very strong, with him holding serve on 80.2% of matches whilst breaking opponents 40.1% of the time.
Betting Odds on the 2016 ATP French Open
Nadal with his combined 120.3% is now back firmly in the elite level. He has also won two consecutive titles, in Monte Carlo and Barcelona, with wins over rivals Andy Murray and Kei Nishikori. These should also boost his confidence. The odds for Nadal to win the 2016 French Open, as listed in April 2016, are 3.28 and he is a major threat to Novak Djokovic. On clay, Djokovic held serve at 90.1% and broke his opponents 27.8% in the last 12 months.
This data makes Nadal a significant threat coming into the French Open which will be starting in a month's time. I looks like Nadal's decline is over and he is now rising to become an elite competitor once more. Does it make sense to bet on Nadal to come out on top in the French Open 2016? We will have to wait and see but be sure to check out the best French Open betting odds at the top Canadian online sports books before placing your bets.