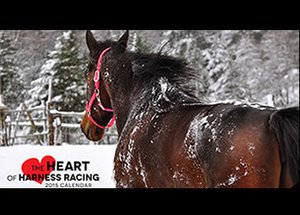 Horse racing in Canada is getting a fair bit of attention this year from the Harness Racing Calendar giveaway.
The I Love Canadian Harness Racing Fan Club has paired together with Standardbred Canada to offer a special calendar for 2015. There are more than 150 different submissions from people across the country who were all trying to get in the calendar, and 13 of those submissions were chosen to be included. This is a pretty big deal for anyone who is interested in Canadian horse racing, and it'll give you one more reason to get down to the track this December.
These calendars are going to be given out at different tracks for different events. The first set to be given out were done on December 11 at the Lakeshore Harness Racing Christmas Party. Northlands Park had their giveaway on December 12 and 13, while Flamboro Downs also gave them out on December 12. Truro Raceway is going to be the place to be on December 21 and 28 because they'll be having a special drawing to give away more calendars just like they did on December 14.
You still have a number of chances to get in on the action with this cool Canadian horse racing calendar giveaway. On Boxing Day, December 26, you'll be able to pick them up at Fraser Downs and with Harness Racing BC. Red Shores Racetrack & Casino in Charlottetown Driving Park is also giving them away on Boxing Day, but you'll have to wait until New Year's Eve to pick them up at the Raceway at Western Fair District.
It's easy to see that these calendars are a great reason to get down to your closest track and check out the action, and you'll be able to see tons of horse racing fans from across the country each month as you turn the page. No matter if you're an advanced horse racing mind or someone who just loves the excitement of the competition, this calendar is a great addition for 2015 for anyone who is a fan of the sport.