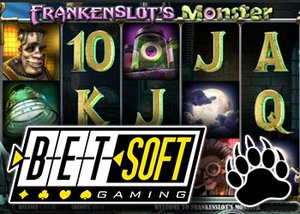 There is something about that phrase "it's alive!" that everyone has experienced when watching the old Frankenstein classic.
It sends a tingle down the spine in anticipation of impending havoc being reeked as the monster comes alive ready to go on his rampage, and although everyone knows it is coming, no one knows what to expect! Well there is a new twist to this classic tale, and it comes in the form of a splendid new slots game called Frankenslot's Monster.
This new slots release from Betsoft is bound to get the pulses racing, with new engaging gameplay being the order of the day. It's an awesome slots game that's destined to attract players of all types and with Frankenslot's Monster once again Betsoft have excelled in raising the marker in terms of player expectation and satisfaction, it's nothing short of amazing!
Journey Into Dr. Frankenslot's Lab For An Electrifying Experience!
The pulsating experience starts with a journey into the doctors laboratory. Here you will be able to witness first hand such things as Electrifying Wilds, Free Spins, exciting Bonus features and more. Land three or more Scatters and collect 8 Free Spins whilst one, two or three symbols turns Wild at random. Secure three or more Scatters during the feature and trigger more Free Spins too.
When you acquire three or more Bonus symbols you activate the Bonus Feature and now have a chance to win up to 25 x your initial stake. Be prepared for the Electrifying Wilds as they can appear whenever you trigger this feature, and they offer up the perfect way to capitalize upon many more winning possibilities and combinations at the same time increasing your bankroll, and a chance to play "double or quits" with the coin toss feature, should you be so inclined.
VP of Sales and Marketing for Betsoft Mark McKeown told of the satisfying experience that the company's employees had at every level of development of Frankenslot's Monster. With the game's animated underground laboratory backdrop amplifying the spooky surround to the well-known characters celebrating the wins, right alongside the player.
He said he was certain with the Betsoft special touch that the company have become famed for, the pleasure levels will cut right across all player demographics. As he says, "Retelling favorite stories is as old as humankind itself," and when you have such an enduring story and endearing game it's likely to be taken to by the masses, now's the chance to be one of the first to play it!