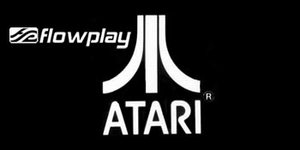 A lot of people still remember playing Atari games, and the upcoming Atari Jackpots line is bringing back these retro titles.
A new deal with game developer FlowPlay is going to have the new Atari Jackpots live by the end of 2014 accounting to recent news. This is a part of Atari's big push into the online casino arena, and they're looking to take advantage of their well-known stable of classic titles to help the cause.
One aspect of the new Atari Jackpots platform that's really interesting is that they're taking a social-centric approach. This is an approach that's been taken to small degrees by many online casino software developers this year and back in 2013, but there haven't really been any major advances. If Atari is able to push through and make this a platform that makes people connect in a major way, then it could be their ticket to having the Atari Jackpots platform being a major competitor in the online gambling marketplace.
As far as game selection, there's no concrete announcement yet on which classic titles are going to be included. However, there have been announcements that there will be single-player and multi-player options, and it would seem insane for them to do this without including tons of classics like Asteroids, Space Invaders and Centipede. They will also include casino games like blackjack, video poker, slots and more. This is a well-rounded approach that helps them to combine their current library with the gambling titles that are needed for their platform, and it's looking like it could turn out to be a very successful operation.
FlowPlay is the company that's going to be helping Atari bring this platform to life. They specialize in enhanced casual gaming, and this expertise is sure to come in handy with what they are undertaking here. We'll have to see how it works out once it releases inside of the next month or two, but all of the concepts seem like they should work. Overall, this could be something that helps to cause some major innovations, and experts agree that the industry is in need of a shake-up.