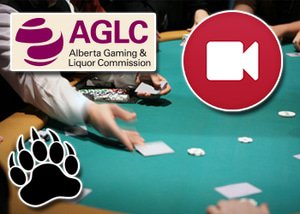 Alberta's Gaming and Liquor Commission, the AGLC, have made a surprising and unforeseen U-turn, and revised their Casino Terms and Conditions along with Operating Guidelines earlier this week. It will now be possible to film Canadian Poker tournaments for video broadcasting. What once originally stated that Poker tournaments could not be filmed or recorded has been amended.
The 1.17.8 amendment reads: With prior AGLC approval, tournaments may be filmed or recorded. The Casino Facility Licensee must submit an event media plan to the AGLC (see Subsection 1.17.1 h). (March 2016)
The media plan to film Canadian Poker tournaments will have to include the media company name, their responsibilities, which will need to include an integrity protection summary for the game, along with the method for notifying players, hours of filming, and details of event coverage, along with anticipated uses of tournament footage.
A New Dawn Beckons For The Alberta Poker Community
Legalities filming Poker Tournaments have long been a point of concern for the Canadian Poker community of Alberta. Top Poker tournament series abroad and across the country utilize video exposure to increase their event's prestige, sadly in recent years this has not been possible in Alberta.
The importance of tournament Poker TV coverage cannot be overstated. It has been Steve Lipscomb's innovation with his World Poker Tour creation along with Lyle Berman, Mike Sexton and Linda Johnson that paved the way for Poker's boom, and put Poker into people's living rooms.
Without such a foundation of TV Poker, Chris Moneymaker's notorious 2003 WSOP win wouldn't have captivated the hearts and minds of home viewers to head to online Poker sites as well as live Poker events in their masses. Without doubt, Alberta has already established itself as one of the country's hotbeds for tournament Poker action.
There is no shortage of Poker series to play, with great series on tap at the Grey Eagle Resort & Casino, the Deerfoot Inn & Casino, the DeepStacks Poker Tour, as well as Edmonton's Pure Canadian Gaming locations and more.
That's all fine and dandy but previous lack of video coverage that's been enjoyed by other venues across the country, has somewhat stifled growth. Never has the province enjoyed stopovers within their borders from the WPT or WSOP circuit.
Now it's all about to change with casino licensees now allowed to film Poker tournaments. Albertans will wait in anticipation as changes in provincial law take hold and gather rapid momentum. It looks like a foreseeable win-win situation with premium entertainment on the menu for all. Who in their right mind could possibly say no to that?