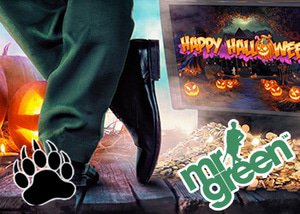 Many online casinos are offering stunning Halloween Promos and Mr Green is no exceptions! Players will have a great way to enjoy some of the hottest Halloween-themed slots as they spin for their chance to win added rewards from this amazing promo.
The casino is inviting players to enjoy 12 days of Halloween where they can win awesome payouts and $14,000 in Cash Candy. The first part of this promotion began on October 28 and there will be other ways to win and celebrate the upcoming Halloween season. The promotion can only be enjoyed by those that have an active and funded Mr Green Casino account.
How the Fangtastic Free Spin Rewards Promo Works
On October 28, the Mr Green bonus offer will begin and players will engage in The Spinning Dead promo. Any player that enters the promo will qualify for daily Fangtastic free spin rewards when they complete a Zombie trick every day. Just complete the four tricks and get additional free spins. In addition to the free spin offers, this Mr Green bonus will also award 20 players with a share of $2,000 based on the highest percentage wins on Halloween-themed games at the site.
The next promo starts on November 1 and is the Howling Spins promo. Here, players will hunt down free spins as they complete the Werewolf Tricks for the day. Completing all four tasks will award more free spins and the leading 20 players on the New Mon leaderboard will share a prize pool of $2,000.
The final part of the Fangtastic free spin rewards offer starts on November 2 and is called The Fearless Spinners. This is a four day promotion and players will be able to collect many free spins as they complete Vampire Tricks. With this Mr Green bonus, 25 players will also enjoy entry to a $10,000 blood bank drawing.
With these three great Mr Green bonus offers, players will enjoy 12 days of rewards as they engage in some of the hottest casino games online.
Get Started at Mr Green Casino
Any player that does not have an account at Mr Green can use the fast registration process to create an account. When the first deposit is made, the casino will award a bonus of up to $100 as well as 200 free spins. As soon as players are registered and have funded their account, they can jump in and enjoy this amazing Fangtastic Free Spin Rewards promo.