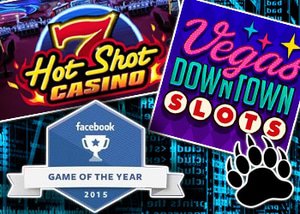 Social media has rapidly become one of the biggest methods players can play online games be it actually gambling related or not.
This is certainly nothing new, however what is interesting and worth taking note of is the increase of legitimate online gambling providers launching their games into the social media arena. Why not when they can add a further award to their list of accomplishments such as the Facebook Gambling Awards?
Social Media platforms offer several of the online gaming providers an opportunity for expanded recognition and it is no surprise to see companies such as IGT, Scientific Games and Playtika, expanding their sphere of influence, with other ways to get their games in front of an ever increasing marketplace, which brings one to the Facebook Gambling Awards.
Facebook's 2015 Web Games of the Year
Making the list of Facebook's web games for 2015, come two well-known providers, namely Scientific Games and Playtika. Without a doubt this is a huge accomplishment for these two game suppliers.
Casino operator Harrah Entertainment acquired over half of Playtika's shares in 2011 which was the largest acquisition at that time with a company value of $80 -$90 Million. Owned by Caesars Growth Partners a subsidiary of Caesars Interactive Entertainment, it is their Vegas Downtown Slots which got the company on the list. Downtown Slots represents their virtual version of the classic driven reel games, that are epitomised with land-based casinos such as those associated with Las Vegas casinos.
Scientific Games have quite a history in the gaming industry. They provided digital gaming solutions in the UK in 2007 for their pubs and betting shops, and after buying out WMS Industries in 2013, followed this up with the acquisition of Bally Technologies in November 2014 for $3.3 Billion, and they are now known across the globe for their free to play slot games.
Speaking after the Facebook gambling awards Barry Cottle, Chief Executive Interactive of Scientific Games said that their current recognition "exemplifies our deep understanding of our players and the market". He went on to say that it was a validation of the company's commitment in their pursuit to creating the best of entertainment for players wherever they may be, on their mobile, online, or in the land-based casino.