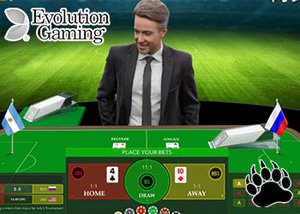 Evolution Gaming has a live dealer game for the World Cup with live football fixtures, match commentary and goal celebrations throughout the tournament.
Evolution Gaming recently introduced an exclusive live dealer game for the World Cup that can be enjoyed on both desktop and mobile devices throughout the tournament. The world-class product dedicated to the World Cup is called Live Football and it presents an exciting new card game combined with goal celebrations, match commentary, and football fixtures for every single match during the prestigious tournament.
Evolution Live Football Studio
Evolution Gaming invites players to kick off a truly unforgettable football experience with an enthusiastic sports commentator hosting the game while keeping you up-to-date with every top-class football match during the World Cup. The action takes place in a captivating football themed environment with a super-fast and simplistic card game that is sure to keep you on the edge of your seat.
Evolution's Live Football product will also allow you to celebrate every goal as it happens and gives you the opportunity to engage in football conversations with live dealers as they keep one eye focused on the game and another glued to a monitor to react the big moments during each match. The user-interface will feature current match details in real time and will also include a hand history feature displaying the previous results. Although Live Football will appeal to football enthusiasts and sports betting customers, it's a fantastic game that can be enjoyed by everyone.
How to Play Live Football
The new Live Football game further expands on the card game selection from Evolution Gaming with a brand-new game category called Top Card. In each round, players simply need to place a bet on one of two possible outcomes. The live dealer will draw two cards at the start of each round, one for the Home Team and another for the Away Team, placing both cards face down on the table. Players will then need to correctly predict which of the two cards will display the highest card value.
The two betting options in the game include Win and Draw. Should you have a winning bet by correctly predicting where the highest card value will be displayed, you will receive a payout of 1 to 1. Furthermore, should you predict that the two cards will display the same value, you will receive a payout of 11 to 1 by placing a bet on the Draw option. The lowest bet amount on Live Football is $1.00, while the highest bet amount peaks at a mind-blowing $10,000. This allows both high rollers and novice players to participate in the game.
Where to Play Live Football
The new Live Football game can be enjoyed at a vast range of online gaming establishments featuring Evolution casino software. If you are interested in enjoying the game through an instant-play platform that doesn't require any additional downloads, you can play Live Football at Stakes Casino. With lightning-fast payouts, fantastic promotions, and a sensational collection of live dealer games, Stakes Casino is the perfect online destination for all your gaming needs during the World Cup.