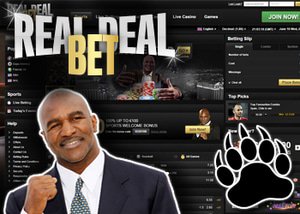 George Foreman had his amazing grill and sold millions, now another former boxing champ is throwing his hat into the ring one more time as well, introducing future gaming top brand with amazing RealDealBet.
Seconds away Ladies and Gentleman presenting Former Heavyweight Champion of the World - Evander Holyfield!
Former 5 time Heavyweight Boxing Champion of the World Evander "the Real Deal" Holyfield is excited to be involved in the launch of RealDealBet and plans to be seeing this new and complete online sports & casino website fight off all the challengers for the crown of the Number 1 of the betting and casino world.
Operating from Curacao in the Dutch Antilles this new casino and sportsbook operator has made an explosive entry into the gaming market and they're looking to take both the professional and recreational players by storm not just across Europe but right around the globe.
Introducing Award Winning SBTech's eGaming Platform!
Powered by SBTech, everything is available for the customer and delivered in a very easy to navigate manner. The player selects their tab from the menu at the top of the home page and then they are off and running. It's easy to find their way around!
Be they wanting to bet on Sports, Live Betting (for in-play sporting events), Virtuals (for virtual sporting events), Casino (for casino games), Live Casino (Casinos table games with live dealers) or just the Games menu tab, everything is just an easy click away and then the player's ready for action!
Great bonuses beckon, and simplified banking procedures await. There's also Live Chat Support who'll be ready to fight the player's corner, and be readily on hand should they need their coach!
Evander claims RealDealBet will evolve to 'The Real Deal' in the world of online sports betting and knock their competition sideways with a mighty wallop. Delivering knock out blows in the form of competitive odds and lightening payouts and a deluge of bonuses, the opposition will struggle to keep on their feet as this will be the betting site of the champs.
Fighting rhetoric indeed Evander, and everyone wishes this great casino and sports website all the very best in the coming months. All the new fans just hope ear basher Mike Tyson is nowhere within ear shot, that would hardly go down well. Nobody needs a spoiler just as the party is getting underway, Go Champ!