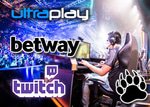 In this eSports betting news roundup we are taking a look at what is happening for those interested in betting on eSports. We've got Twitch news, Betway casino news, and more.
Twitch's First Currency and Gambling System
Amazon Game Studios, a game publisher, has just rolled out Twitch's first currency and gambling systems against a backdrop of a major gambling scandal that dogged the Steam gaming marketplace.
Twitch's currency called "Stream+" will be seen first in the sports-brawling multiplayer game Breakaway. The currency was revealed by an Amazon representative while describing how the new game will "integrate directly" with Twitch during the annual TwitchCon this week. A brief snippet of Breakaway action was also given to fans and this showed viewers ability for betting on eSports matches and earning Stream+ coins by watching.
Amazon didn't go into details on how the coins could be spent and what they would unlock, either within Breakaway or throughout the Twitch ecosystem. The company also failed to mention whether Stream+ currency could be bought, sold, or traded.
What we do know for sure is that Twitch's new currency and gambling system will attract gambling watchdog groups, especially after the Stream gaming marketplace, was involved in a major scandal.
Aside from Breakaway, Amazon said that players could count on the integration of the Twitch currency with other games. Other Twitch integrations will include the ability to easily promote games and invite players via a Twitch stream.
Betway Invests in eSports Team
Betway, probably best known for the Betway casino has strengthened its ties to eSports betting with a six-figure deal to sponsor Swedish professional team Ninjas in Pyjamas (NiP). Betway was the first operator to a launch a dedicated eSports microsite in 2015 and now it is claiming to be the first UK-focused operator to directly invest in a professional eSports organization.
The deal with NiP will see Betway take ownership of the rights to the team's content, gain full player access, and benefit from brand placement on team shirts and at the NiP's dedicated gaming venue.
Anthony Werkman, Betway's director of marketing and operations said, "We have put a special focus on our eSports offering over the past few years by launching the first eSports betting specific microsite and content channels. Our agreement with NiP is yet another first and cements our position as the world's leading eSports bookmaker."
Ultraplay Launches OutLaws eSports Academy
UltraPlay has started its own eSport Academy for young gamers who dream of competing on a worldwide gaming stage. UltraPlay has announced that it has succeeded in gathering two teams of young eSports stars playing CS:GO and Overwatch that have their own professional contracts and were first and second place winners in the Bulgaria Game Evolution tournament.
Ivan Stratiev, Rock1nG, captain of the CS:GO team said, "I am so happy that now I get the chance to work with UltraPlay, the leading company in our industry. My teammates and I are going to work very hard in order to achieve our first goal of being at least in the Top 30 world CS:GO rankings."
The brand new eSports Academy is called OutLaws and it will bring together the most dedicated young Bulgarian gamers who now have the chance to compete in the largest world gaming tournaments.
Apart from the professional contract, UltraPlay will also include a boot camp with experience trainers for the two teams. This will help to improve their skills and strategical play.
Mario Ovcharov, CMO of UltraPlay, said, "We are more than happy to expand our commitment in eSports by acquiring two uprising teams. Giving them a chance to become a world class organization gives satisfaction to everyone in our company. You will be seeing a lot from them in the upcoming months."