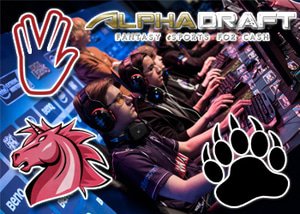 With the rise of eSports, it was only a matter of time before the casual betting pools grew and they have now turned into full wagering platforms thanks to three companies.
Broadcasts of these competitive electronic events have built up to more than 134 million people around the world tuning in to see the performance of their favourite big names in professional video game player or out of sheer curiosity. Fantasy sports has already turned into a profitable pool through the power of the internet so this next logical step was only a matter of time before coming to fruition.
Betting On The Popularity Of eSports Gambling
With such wide interest, three startup companies have started gearing themselves to provide gamblers with the chance to place bets the same way that they would for any other event. Unikrn, AlphaDraft, and Vulcun are all getting in on the ground floor of this relatively new business which some think is going to continue to explode in popularity. At the moment, all three are focusing their attention on the draw of League of Legends, but either plan to expand, or have already expanded into other areas. AlphaDraft currently supports League of Legends, Counter-Strike: Global Offensive, DOTA 2, and SMITE.
All three have begun soliciting investments in order to build their businesses and provide players with a prize pool to compete for. Unikrn has raised more than $5 million, including a partnership with an investor, Tabcorp, the $5 billion betting giant from Australia, in their bid to come out on top of this simultaneous start of the race to be the top dog in this corner of the gambling industry.
Millions of Dollars Pledged To Payouts For Users
Meanwhile, AlphaDraft is well on their way to their goal of paying out more than $5 million by the end of the year with over 1 million active users. Vulcun has already paid out more than $1.1 million after gaining $13.4 million in seed money to get the ball rolling.
AlphaDraft's CEO, Todd Peterson, explains the supply and demand of their business space perfectly, "this is a very big space with much potential. If the video game industry currently rivals the size of traditional sports as a whole, and eSports is the size of any of the major individual sports, there's a lot of room for friendly competition and further specialization, as the industry matures."