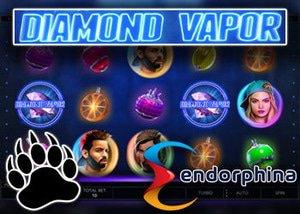 Renowned software provider Endorphina continues to set the bar higher with the release of the first game in the gambling industry themed on vaping - the new Diamond Vapor slot.
This follows right on the heels of their ground-breaking EiG 2016 slot that bedazzled the iGaming trade and as a result, they walked away with the Creative Sponsorships Campaign Award.
Enthralled by the powerful essences and unceasing recognition of fruit-themed slots, the creative team envisioned a fruit game with a surprising twist. The Diamond Vapor slot was designed to perfection by skilled professionals. The team aims to extend the enjoyment from the online environment to the offline and they chose a very unusual and unique theme for the newest game and it is targeting your senses this time. A fruit theme game bursting with catching game mathematics was born, enhanced with pleasing fruity vapour essences that will captivate your senses right to the bone.
During an interview with the creative team of Endorphina's they made the following statement: "Fruit-themed slots, some of the most popular games of all time, have entered a completely new dimension. Not only are there alluring colours, graphics and pleasant sounds, there are amazing real prizes to be won!"
This extraordinary slot from Endorphina is filled with a plethora of zests, trendy gifts, as well as custom-flavoured fluid with the palate of pure ecstasy produced by our colleague, Diamond Vapor. The game slot is accessible for demo play at many Endorphina casinos including Omni Slots Casino. Enjoy the Omni Slot bonus which includes 50 free spins in addition to the 100% match up to $300. To claim this offer use bonus code 50FREE in the support live chat window after your first deposit has been made. The site is very straightforward to navigate and the gameplay is outstanding. This is a terrific choice for Canadian punters searching for somewhere new and exciting to play the new Diamond Vapor slot.