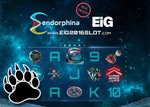 Endorphina casino software has recently joined forces with Clarion Events in order to create a custom slot for the EiG2016 Expo.
The exciting expo is taking place on the 18th through to the 20th of October in Berlin, Germany. Great excitement was part of the build up to this great even including the new collaboration that Clarion and Endorphina had put together when they decided to partner in order to create a customized design slot exclusive to the Expo.
The brand new video slot is inspired by a space design and excites with impressive payouts via high volatility mathematics, and, with Endorphina casino software involved, the mentioned features focuses on everything that would make the biggest imprint on the player in order to make the best impression this year at the event. You can play existing Endorphina slots at Omni Slots Casino.
Rory Credland, the Event Director at Eig2016 from the Clarion Event Sector shared his feelings regarding the collaboration and said that the EiG2016 is focused on innovation and always looking for something that is unique and new. The new idea of Endorphina is terrific according to Credland and it was impossible to not accept the suggestion since it is brilliant, bold and challenging all at the same time and what makes it stand out is that nobody has ever thought about it or done it before.
Endorphina casino software also released a statement and shared that they have always done what no one else does, have always strived to think out the box and enjoys reinventing that had already been invented, so they had no choice to turn this brilliant vision into a reality.
EiG2016 and SBTech
The EiG2016 is also where SBTech plans to showcase its portfolio of cutting-edge products, its stand will offer a combination of versatile tools and unrivalled industry knowledge that has positioned SBTech as a global leader in sports betting as well as a trusted partner of operators in the Bahamas, Malta, Argentina, Mexico, Australia, Denmark, Greece, Portugal, Czech Republic, Romania, Belgium, Spain, Ireland, and the UK. SBTech is planning to demonstrate its Chamelion360 iGaming platform, semi-managed sports betting product and Omni-channel solutions at the event.
The Omni-channel solution offers a unified experience for customers & operators across all devices, channels, and products through a single wallet and includes front-end connectivity to all interactive channels and retail systems sharing the same central back office system enabling players to access to bets, funds and their accounts regardless the product used or channel. Richard Carter the CEO of SBTech shared their excitement regarding the upcoming exhibition and looked forward to exhibiting their latest product developments that showcase their dedication, hard work, and the growing international team's innovation.