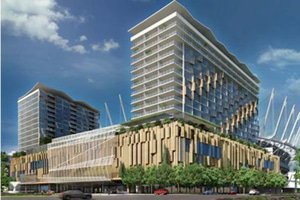 BC's Edgewater Casino could very well fail and leave the province, and therefore taxpayers, empty handed with no repercussions for those responsible.
There are regulators now overlooking the planned Edgewater Casino planned for BC Place to find whether the project itself is financially viable and whether or not Michael Graydon, former CEO of the British Columbia Lottery Corporation and key player in BC's online casino, Play Now. This level of oversight has been much needed after concerns surrounding Graydon's exit from the company as well as the failure of similar projects with what has now become an audit of the entire structure of the BCLC.
The Edgewater Casino relocation is set to tie up hundreds of millions of dollars from the public coffers, a reason for every citizen to be concerned, especially since 42% of the entire cost of the private casino. This move is projected to cost a total of $535 million, meaning that the province could be footing a bill of almost $225 million. Even more concerning is that Paragon Gaming, the company that owns and operates Edgewater, has a history of bankruptcy, default, insolvency, and failures over at least the past four years in neighbouring Alberta.
These many failures should have been plainly obvious to the BCLC, despite the province of Alberta promoting the company as a high end casino resort on par with those in some of the world's most well known gambling meccas. Just a single example, Whitecourt, Alberta's Eagle River Casino, turned insolvent, owing more than $100 million to investors and losing more than $1 million in a single month. This came to a head between December 2013 and January 2014 when both of their failing ventures in that province ended, one with a forced bankruptcy and the other with a shady buyout.
Just the one example should have been enough to put up red flags for the BCLC and made Paragon's operations seem a little more than suspect. Instead, there was a lack of warning about the company made by Graydon who helped get Paragon's foot in the door for the subsidization that BC offers before finding out that the company he led would be fully audited (during the same time the two Alberta locations were in their death throes). Suddenly, he was no longer the CEO of the BCLC, but instead the CEO of Paragon Gaming's PV Hospitality, a joint venture with Edgewater.
Does this mean that the people of British Columbia could be left with drained coffers from a shady backroom deal and nothing to show for it? Not necessarily; there's always the chance that the BC location could take off and be wildly popular while generating great profits. However, the history of the company behind the project in Alberta likely shows us a more realistic vision of the future of the Edgewater Casino project.