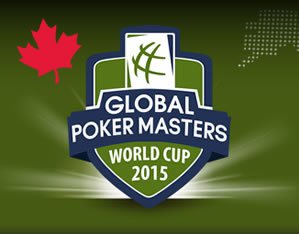 Canada is home to several of high-profile poker players and the largest online poker sites in the world, but that wasn't enough to give them the edge in the Poker World Cup this year.
The Global Poker Index is a well-established authority when it comes to ranking poker players, and with over 400,000 players from 95 countries, they were able to establish the top eight countries for poker players for the 2015 Global Poker Masters World Cup. The eight countries in the mix were the United Kingdom, the United Sattes, France, Russia, Ukraine, Italy, Germany and Canada, in no particular order. These countries sent teams of five players each to face off in the first recognized World Cup for the game of poker.
It was an honor for Canada to be considered in this event, but they came up a little short with a fifth place finish out of eight teams. The format was a set of deep-stacked matches with players from each team facing off in heads-up contests. You can't have everyone together at the same table because of the team aspect since that would have players on the same teams facing off against each other and problems of collusion.
Teams accumulated points based on their wins in these matches, and moving into the semi-final round, six teams were left including Team Canada. Canada was knocked out in fifth place after 11th-ranked Ami Barer ran into a coin-flip situation against Dan Smith from Team USA. He was on the losing end of the 50/50, and this led to Canada's exit from the field. The other members of Team Canada included 10th-ranked Sorel Mizzi, 12th-ranked Andrew Chen, 14th-ranked Jonathan Duhamel and 139th-ranked Marc-Andrea Ladouceur. These are global rankings according to GPI, so Team Canada held four of the top 15 players in the world going into this event.
While these are some pretty favorable rankings, the truth of the matter is that Mizzi was the only one who has been performing well lately. He has over $10 million in recorded tournament winnings, and he's largely considered to be one of the best few players to ever come out of Canada. Even though his teammates aren't exactly slouches, they have all been on a bit of a downswing over the past several months.