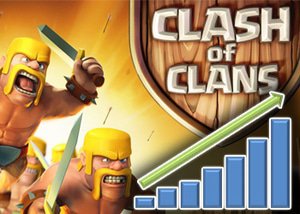 The top spot on the US iPad chart has been taken by the Double Down social casino in a bold move that shows gambling's popularity.
It seems difficult to understand how social casino apps can perform so well. You're essentially betting virtual chips to win virtual chips with no chance of winning real money. Players often purchase even more virtual chips to increase their chances of winning more, but there's no way to pull a cash return on it.
In spite of this, the Double Down social casino, generally seen as the most popular of these social casino apps, has made a very telling statement about the importance of the gambling experience by hitting the number one spot on the iPad charts for the United States. This chart is sorted by revenue, so it's literally bringing in more money than any other app for iPads in the United States. It goes without saying that this is incredible.
Social casino apps are making major waves. If you look at the top 20 overall on this chart, a whooping nine of them are social casino apps. That's one away from being half and two away from being a majority. What's also interesting about this is the ire that is drawn from traditional game app developers who view social casinos as somehow beneath them in terms of game quality and overall development. While it's true that the development processes for traditional games and social casinos are drastically different, it's also true that players like what they like, and the charts reflect that they love to gamble.
If you want to think about this on the larger level, then this type of popularity could actually impact gambling legislation in both the United States and Canada. One of the main arguments against expanding regulated gambling is that it pulls money out of the economy in some way, but how's that any different than money being paid to these game companies for social casinos? It's really not except players have a chance to win something substantial when they bet in real online casinos.