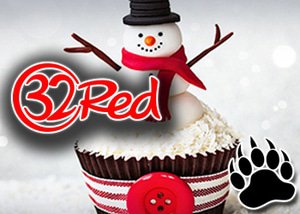 Tis the season to be merry and no better place than at the 32Red Casino as they gear up with their Dish of the Day Christmas special promotion.
Now is the chance to revel in second helpings with special Double Bonuses on certain selected days, along with Festive Free Games that no one will surely want to miss.
Now is the time to get in the mood and join in all the merry fun with lots of festive free games over the holiday period, it's time to enjoy the magic of Christmas with lots of seasonal themed slot games, as the 32Red Casinos Dish of the Day Christmas special gets well and truly underway.
Here's the chance to play special Christmas Feature free games such as Deck The Halls, Happy Holidays Slots, Santa's Wild Ride or Secret Santa just as soon as you've opted in for the Dish of the Day Christmas special promotion.
Free Games & Double Bonuses Upon Deposit!
Players will be presented with their free games just as soon as they have made their deposit of CAD $25 or more. There are festive free games on specially selected days, and there are also double bonuses up for grabs on others.
Claiming your bonuses is easy. Simply log in to either the Instant Play Casino or the download and you will be presented with the very first Dish of the Day Bonus. If you are happy with what you see, just choose "Yes" and opt in.
Next thing to do is once you have opted in, is to make your minimum CAD $25 deposit, and your bonus will automatically be granted. Once you've played through the bonus be sure to check back with the Promotions Page to double check if there's another special that day. If that be the case choose "Yes" to opt in once again, and the free games or bonus will then be added onto your next deposit.
During the Dish of the Day Christmas special all new players will be welcomed to join in the festivities and receive CAD $10 completely free in real casino chips, with No Deposit and completely on the House. Strike while the irons hot and claim your CAD $10 today!