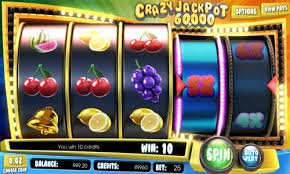 With the online video slot machine market being so competitive, every new game needs to be better and more attractive than the last and BetSoft has delivered yet again.
Crazy Jackpot 60000 is more than just the ordinary video slot, it's both a jump forward in pushing features and fun as well as a throwback to simpler games that started the slot machine craze in land based casinos before the age of the internet. The range of appeal is wide, from a simple and clean interface that is easy to use and intuitive for new players as well as challenging and rewarding enough for experienced gamblers to see value in. There's a classic feel to the overall game with no overwhelming graphics or too flashy additions that stop or slow gameplay but still a clean and attractive quality about the overall look.
The gameplay itself is what will set Crazy Jackpot 60000 apart from the pack as a popular video slot across Norgesspill, RedSlots, and 7Red, the first Canadian accepting online casinos to have access to it. There are two sets of reels in play here with the first being a simple three reel, three line set up in the form of a classic fruit slot machine. There's a twist to this though, in that a winning combination can be made by having the right symbols in any position across the reels, creating a pay line structure with 27 ways to win.
The payouts build on one another as winning symbols across one set of reel get the extra set of reels into motion with multipliers building all the while, so long as the winning symbols keep coming, all the way up to 50 times. Another great thing about multiple reels being activated by the first set winning is that the earnings made by the first set can never be lost if the subsequent sets fail to make a combination. It's practically a no-lose situation.
Betting per spin is set at 25 credits, keeping the betting level low enough to not scare away smaller bet players but high enough to create an amazing reward for those looking to land a jackpot. Wildcard Jokers appearing on the reels three times tacks an automatic additional 100 coins onto whatever winnings and made and the frequency of low payouts will keep players coming back for more and more as there doesn't seem to be much risk but the chance at a huge reward. BetSoft seems to have landed themselves a winning combination for both the innovative build of their games as well as the entertainment value for their players.