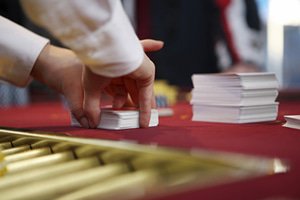 A New Jersey judge has ruled that a player who won more than $1 million playing Baccarat at Golden Nugget Casino must repay the takings due to invalid play.
The player has now experienced the highs and lows that come from huge wins and losses thanks to the ruling of a judge who determined that the unshuffled decks used in their lucky winning Baccarat game invalidated the win. Understandably, this has turned a negative eye from players and some industry experts.
In most instances, casinos that fail to follow their own best practices and end up giving away big wins to players as a result end up accepting their loss and congratulating the winner on their gain. The decision to pursue this player and take back their $1 million though has cast a shadow by punishing the patron even though no rules were broken.
Bill Zender, a consultant who is also a former regulator and casino executive said that player opinion falls along the lines of casinos being, "crooks anyway," and went on to say, "this just sets a bad precedent." He also said, "I'm happy for Golden Nugget, but it's terrible for the industry."
The fault in this case ended up coming originally from the card manufacturer and distributer, Germaco Inc., whose eight deck shoe should have been shuffled before leaving their facility and arriving at the casino for use. On this occasion, the cards were left in the same order that they were made, resulting in a predictable deal pattern for a keen eyed player. The casino was able to sue the distributor but was appeased with an out of court settlement.
This means that, not only does the casino get to reclaim the monies that it would have lost to the patron who took $1 million, but they have also gained the undisclosed amount from Germaco Inc., making it look like the house came out on top not once but twice. Cold comfort comes to the player in the judge's ruling in that the buy ins that were placed were to be returned.
Did the court rule correctly in your opinion? Should there have been a different outcome where the casino just accepted the loss and moved on, letting the player keep their winnings? Leave your comments in the section below.