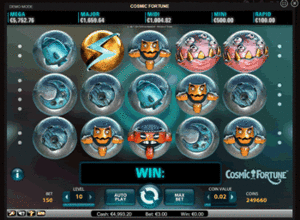 If you're a fan of a handful of progressive jackpots, then you'll love Tropezia Palace's new game Cosmic Fortune.
Games have to come and go in the online casino world, and a number of Net Entertainment titles have been pulled to make way for a new progressive jackpot game. That new game is Cosmic Fortune, and it's going to replace a handful of dated titles including Vault Assault, Gold Rush, Cash Bomb and Fishy Fortune.
There are five different progressive jackpots in the new Cosmic Fortune game, and this is more than enough for any progressive jackpot fan. The key here is that you'll be able to win the smaller jackpots more often and the larger jackpots less often. The largest of the five will always start at a six-figure level, so you're going to be able to win a life-changing sum of money on any given spin when you play this new game.
Net Entertainment's strategy of pulling older games to make room for newer titles is an approach that most online casino developers do not take. Their point is that they want players to focus on the newer titles that they have going in an effort to push the envelope and continue to innovate. They want all of their available games to be of the highest quality, and if they can't do that, then they will simply replace it with something better. That's what they have done with the progressive landscape with the addition of Cosmic Fortune.
Tropezia Palace is a great place to enjoy this new title. While they have a great selection of games thanks to NetEnt and other providers, they also give you a nice selection of promotions to choose from. The key here is that you get the best of both worlds: awesome bonuses and tons of high-quality games. This is the combination that all players love, and it's exactly what you'll get when you play with Tropezia Palace. Come check out the new Cosmic Fortune game now to have a chance at winning one of its five different progressive jackpots.