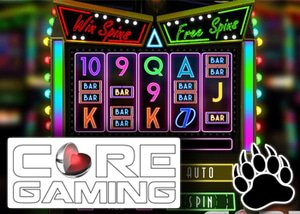 Based in the United Kingdom with their software licence issued through the UK Gambling Commission, Core Gaming have rapidly become one of the shining lights in the development of specially produced HTML 5 gambling games that give the user the best possible experience on all of the most popular operating systems, browsers and mobile devices, that are currently available.
Core Gaming have been successfully involved in both the development and integration of a wide range of extremely popular games for a good majority of the major international operators, and they are currently undertaking development projects by partnering up with a number of top suppliers to the online gaming market, whilst also developing their own portfolio of propriety slot games.
With the utilisation of their vast industry knowledge and expertise when it comes to multiple platform integration and deployment, they have created a very efficient flexible as well as adaptable HTML 5 game framework, that's likely to keep them right at the forefront of gaming development technology. This is clearly demonstrated with their brand new game release Vegas Lights.
Enjoy Fun & Excitement Vegas Style With Vegas Lights Slots!
Vegas Lights, the brand new release from Core Gaming creates a spectacular display of dazzling graphics combined with state of the art animations and true authentic sounds of being in the midst of a real Las Vegas casino. A real statement of intent in enhancing their portfolio of slot games, this exciting new game has been developed in HTML 5 and is available on both desktop and mobile, and available to play at top casinos such as Bet365 and the Sky Vegas platform.
The Vegas Lights slots game is played over 5 reels with 20 standard paylines and up to 40 accounting for additional bonus features. Talking of bonuses, this game features not just one but two incredible bonus reels that offer one of the most authentic Vegas experiences one could imagine, along with huge payouts just for good measure.
There's no doubt any serious player will want to experience Vegas Lights first hand especially if they are familiar with the excitement that this gaming developer brings to their ever increasing casino game productions. Playing Vegas Lights there's opportunities to spin and win cash prizes with matching numbers and symbols.
Players can collect a pair of halves on all of the 5 reels apart from the 3rd and unlock the "Free Spins" and "Win Spins" mega wheels. This special bonus feature allows you to pick up some large bonuses and freebies, with Colossal bonus reels one can get ready to collect Colossal wins!
The Core Gaming Head of Product Kevin Short, said that the company wanted to give players the feeling of drama and fun that they could expect from a night out in Vegas. In conclusion he went on to say: "With the neon lights, the cabaret music and the buzz of the slots floor, we've hit the jackpot with Vegas Lights. There are loads of chances to win, and we think players will enjoy the Nevada experience on their smartphone or desktop."