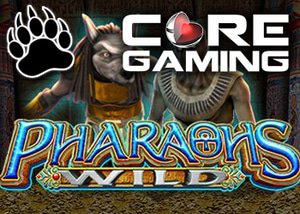 Gamblers who can't get enough of Egyptian-themed slot machines have a brand new one to get excited about - Pharaoh's Wild from Core Gaming.
Following Core Gaming's partnership with Storm Games LTD, the software developer has officially launched the Pharaoh's Wild slot machine. It offers five reels and 20 fixed paylines filled with stunning graphics and a theme that combines traditional Egyptian lore with zombies, mummies, and wolves that come to life.
The title was released just this past week, and so far, it has been quite the hit among gamblers. It offers three different bonus feature games to provide unlimited entertainment, and with wild spins, re-spins, and other opportunities to win, people keep coming back for more.
One of the most exciting features is the random-appearing wilds. Whereas random wilds in most titles do not appear until the reels have stopped spinning, this is not the case here. In fact, in Pharaoh's Wild, the mummy only appears while the reels are spinning. Once he does, you will see different multipliers that also appear to turn into three or more wilds in random locations on the screen. The best part is that you'll have a 20% chance to trigger this feature with every single spin of the reels.
According to Richard Sheldon, who is the Managing Director of Storm Gaming, the first game co-launched with Core Gaming has been "phenomenally successful to date." Sheldon also announced that Storm has a two-year partnership with Core and that they plan to create a roadmap for further online games. The success of Pharaoh's Wild has amplified the anticipation of millions of gamblers around the world who appreciate exciting games with high payout percentages and incredible bonus rounds.
If you are interested in playing Pharaoh's Wild in Core Gaming Casinos, be sure to check out William Hill Casino. This online venue boasts plenty of games from Core along with special bonuses, promotions, and welcome offers to help you get off to a great start.