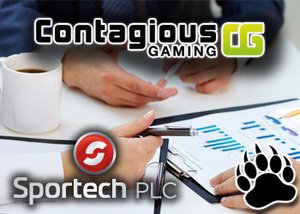 Canada's Contagious Gaming Group have been granted an extension as their continued acquisition of Sportech Plc takes longer than expected.
On Friday, Sportech Plc released a statement saying that the acquisition deal with Contagious Gaming Group has been delayed and will now take longer to complete. The new deadline for this acquisition is now set for the 6th of November 2015.
This now makes it the second time that both of these companies have been granted extensions with time limits by the London Stock Exchange. It now looks like both parties have until 5.00pm on the 6th of November to reach an agreement and complete this deal. Contagious Gaming Group have been negotiating the deal for the takeover of Sportech since August of this year. According to them, it has been a tough road trying to come to a satisfactory conclusion and there have been conditions to meet. There have also been some issues with raising the finances required for the purchase as well as getting Sportech shareholders to agree the deal.
In accordance with Rule 2.7 of the Exchange Code, Contagious Gaming must announce their offer for Sportech by the deadline or state that they don't intend to make an offer. The first expiration date that we saw in this acquisition was the 11th of September but an extension to the 9th of October was granted. Now we have an extension to the 6th of November.
Sportech shareholders have been advised not to take any action yet and in a statement Sportech said that there is no certainty that an acceptable offer will be put on the table. They went on to say that the deadline could be extended further with the consent of the Panel in accordance with Rule 2.6 (c) of the Code.
Contagious Gaming Group have stated that a further announcement will be made as appropriate and we will have to wait until November to see if this acquisition will go ahead or if a further extension will be granted.