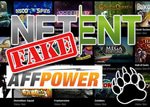 A group of Online casinos associated with Conan Gaming, Game Tech Group, AffPower have been blacklisted for allegedly presenting games as NetEnt when they are not legally licensed from the software provider.
It has been reported the casino brands Conan Gaming and Game Tech Group NV have allegedly been presenting games that they claimed were from NetEnt when in fact they weren't. The brands associated with this scam include Euro Moon, Osiris, Atlantic Club, ParkLane, Cosmik and Deuce Club.
A German website, CasinoTest24, first uncovered the fraudulent activity but the online casinos have since omitted access to playing their NetEnt games to avoid further condemnation and potential lawsuits from this scam (if they haven't already been exposed to.) Conan Gaming are expected to release an official statement about these events next week so until then these are just allegations that have yet to be proven.
How can someone prove this unscrupulous behaviour and dispicable business practice that includes, but is not limited to, hosting unlicensed NetEnt slots games? Once a game from NetEnt has been loaded, users may "inspect" the code in the browser to determine where the game is hosted and should find the subdomain "casinomodule.com". This indicates that the game is legitimately hosted by NetEnt. All other subdomains, including gamesapi.net which was used by EuroMoon, are unlicensed copies of the games. In addition to this, players may also notice that the network jackpot is significantly lower than it should be. Video evidence of the online casino scam was published on YouTube and can be seen below - watch as the player exposes the fraudulent hosting of EuroMoon's selection of NetEnt games. You will also see how much lower the Hall of God's progressive jackpot is when compared with a licenced NetEnt casino.
We urge players to avoid playing at these casinos. Besides the unethical behaviour of ripping off the game design and not paying licensing fees to the editor of the games (NetEnt), there is zero testing or auditing of the payout percentages for these games. There is no guarantee that these games ever payout beyond minimum wins, so players could essentially be playing a game that will cheat them out of their money and never pay what is stated on the payout table.
This event is not the first time that the Conan Gaming group has been accused of unethical behaviour. They have been named in incidents relating to delayed and/or non-payment of players. They have also been accused of unscrupulous competitive marketing, developing games software with inferior RNG technology, and more.
We are extremely disappointed with the allegations of cheating that have been made against Conan Gaming, Game Tech Group NV, and AffPower. We have met with management and they have assured us of their intent to operate in good faith. If these events turn out to be true, which we have every reason to believe, we will deeply regret having promoted these brands to our visitors and loyal members as we are against promoting brands that are associated with scammers that cheat players.
As such, we have placed all brands - Cosmik, Euro Moon, Osiris, Atlantic Club, ParkLane, and Deuce Club - on our casino blacklist.