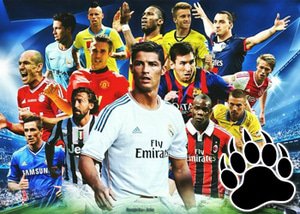 The greatly anticipated draw for the Champions League Semi-Final was made in Nyon, Switzerland at the UEFA's headquarters, on Friday morning on April 24, 2015. The first leg games will take place on Tuesday May 5 and Wednesday May 6, and the second legs will be played one week later on Tuesday May 12, and Wednesday May 13. 2015.
Want to Party in Las Ramblas? Bet 100 to Win 180 on Barcelona Winning the Champions League
Being such a prestigious competition, as expected the draw was attended by the world press along with TV crew representation from around the Globe. This is a tournament that ultimately determines the very best Soccer club team in the whole of Europe, and as expected had the usual anticipation along with build-up that one has come to expect, with everybody trying to guess what the draw would bring, especially at bookmakers like Bet365.
The first team out of the pot was Barcelona and the gathered media held their breath in anticipation of a potential all Spanish affair with other Spanish Semi-Finalists Real Madrid. It was not to be, as the second team quickly followed, another favorite for the trophy, in the form of German team Bayern Munich. Third out of the pot came Juventus from Italy followed by the one remaining team, that of Spain's Real Madrid.
The Champions League Semi-Final Draw - Dates & Times
Barcelona (8/11) V Bayern Munich (4/1)- Camp Nou, Barcelona - Wednesday May 6, 2015 - 20.45 CET
(2nd Leg - Fußball Arena München, Munich - Tuesday May 12, 2015 - 20.45 CET)
Juventus (2/1) Vs Real Madrid (8/5) - The Juventus Stadium, Turin, Italy Tuesday May 5, 2015 - 8:45pm CET
(2nd Leg - Estadio Santiago Bernabéu, Madrid - Wednesday May 13, 2015 - 8:45pm CET)
The 2015 Season's Champion's League Final will be played at the Olympic Stadium in Berlin, Germany Saturday June 6, 2015.
Although there was no Barcelona v Real Madrid Semi Final, there is now the possibility of the two teams instead facing off against each other in the Final in June, a mouth-watering prospect indeed, but only a fool would write off Bayern Munich, let's take a deeper look.
Barcelona v Bayer Munich - This One's Not To Be Missed!
The last Semi-Final these two met in was in the 2012/13 season and amazingly over the two legs Barcelona totally capitulated losing the two games 7-0 on aggregate. Will it be a different story this time?
Pay for your trip to Octoberfest with Bayern Munch - Bet 100 to win 250!
One can only say, there is bound to be some remaining residue amongst the Barcelona team, Will they be all out for revenge, or will the nerves set in again casting their minds back to their two totally astonishing inept performances where the Germans literally trampled all over them?
In this season's Quarter-Finals they comfortably overcame Paris Saint Germain 5-1 on aggregate qualifying them for their seventh Semi-Final in eight seasons. This extended the Catalan club's record of unbeaten games to thirteen.
Can they now make it fourteen and fifteen? Playing with an awesome front line of Neymar, Messi and Suarez, they easily dismantled PSG in the Quarter-Finals, with Neymar striking twice in Barcelona, to hand them a 2-0 victory in the second leg Quarter-Final game.
CR7 Course at UBC Okanagan? No. Real Madrid @ 9/4? Sí
With Pep Guardiola returning To Barcelona for the first time since he left, this game really stacks up to being a thrilling prospect.
In only six seasons as a manager, Guardiola has amassed an astounding 14 trophies. He has won the Champions League with Barcelona in both 2009, and 2011 during his 4 year tenure, and has reached the Champion League Semis in all of his 6 years, 2 with Bayern Munich and 4 with Barcelona.
Feeling Like Italian? Bet Juventus to Win it All at 8 to1
Guardiola's Bayern side have won 5 of their last six games topping a very strong Group E that featured CSKA Moscow, Roma and big spending Manchester City. In the last sixteen they annihilated Shakhtar 7-0 at the Allianz Fußball Arena, München.
Down to the last 8 in the previous round all seemed to be lost when they were handed a shock 3-1 defeat by Porto in the first leg,
However they made the comeback of all comebacks with a stunning 5 goal blitz in the first half of the replay in Germany and the Portuguese club barely knew what hit them, with Bayern walking away 7-1 winner after the full time whistle was blown.
Stop The World, I Want To Get Off! Juventus v Real Madrid
By far the least glamorous side left in the Champions League Is Juventus. They clinically dispatched Borussia Dortmund 5-1 on aggregate in the last 16, and Carlos Tevez Just about got them over the line 1-0 against French Ligue 1 Team Monaco. As for Real Madrid they didn't fair much better with Javier Hernandez finally slotting home in the 87th minute against last season's Spanish Finalist opponents Athletico Madrid.
Could the Final end up with the Spanish Showdown that so many predict or will either Pep's Bayern or Allegri's Juve, spoil the Spanish Fiesta? Come the final whistle on May 13, 2015 all will be revealed. It may not be the best game involving the four teams, but it's still one not to be missed, this is a Champions League Semi Final after all isn't it!