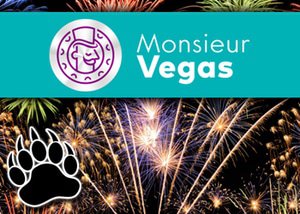 Every month, Monsieur Vegas Casino gets the action started with the celebration of new players at the casino with an exciting lottery that awards generous gifts.
Mr. Vegas celebrates the arrival of new players the wide-open arms and thanks them by rotating the wheel of this lottery. This lottery has multiple giveaways and prizes. These giveaways can range from gourmet baskets to laptops!
Now that a new month is in full swing, why not try your hand at January's lottery?! In order to participate, new players must register bids via the lottery's link. Bids must be placed prior to the lottery being drawn and a minimum of one deposit must be made. After this is completed, you will be entered in the random draw.
All winners are proudly displayed each month in celebration of their win and as another way to welcome them to the casino. November's big prize was an Asus Transformer Book with a 32Gb hard drive and a 10.1-inch screen that was won by Kevin B. This laptop transforms into a tablet so that media can be watched and games can be played. Congratulations to Kevin!
Some other monthly prize winners received a gourmet basket from the famed "Parisian House". The basket was topped with delicious chocolate, crushed peppers, a bottle of Champagne Grand Chu Brut and Foie Gras Whole Duck. The winners of these prizes included Jeremy Q, Silvie W, Anna P and Eugene V. Congratulations to these winners.
In the past, winners have also received multiple fine chocolates that were produced in the same Parisian House. These are speciality chocolates that are produced from the rarest and finest cocoa beans around the world. The winners of this prize include Laura L, Fanny P, Maxime T and Albert H.
The Monsieur Vegas bonus lottery comes with certain terms and conditions, including that only one lottery ticket is generated by new players registering with the casino, and, to participate, one deposit must have been made. The draw takes place on the 12th day of the month and prizes will be sent within 48 hours after the winners are announced. In the event a particular prize awarded is out of stock or no longer available, an item of equivalent value will be awarded.
With all this in mind, why not join Monsieur Vegas Casino and see if you will be its next lottery draw winner!