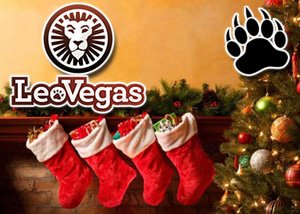 It is Ho-Ho-Ho all the way this Festive Season at Leo Vegas Casino with bonus cards bursting with merry spin fun. If you snooze, you loose! So hurry up and take a grab at this last jolly Christmas Treats before the year runs out.
The hour glass is running out to unwrap your last 100 Free Spins today, on Thursday, 29 December 2016. This treat is only valid when you take pleasure in a game of change at LeoVegas Live Blackjack along with the exclusive Celebrity Blackjack Party tables. It is thumbs up for this casino due to the fact that the Christmas spirit approached early this year with additional bonus cards enhancing each and every deck; Filling your Christmas sock with 25 free spins on selected popular festive games when you obtain a bonus card. Now isn't this merry! It is shouting out Jingle Bells all the way.
From the moment the tables opens on Thursday, all the way to the last minute get ready to be blown away with a jingle when you see the bonus cards being put down. It is a joyful celebration when you not only receive 1, but up to 4 bonus cards amounting up to a 100 Free Spins in this blissful season. There is absolutely no reason for you to be down in the dumps this time of the year, you can indeed cheer up your Thursday by utilising this promotion to the max.
Make a note in your diary to not miss out on this last Free Spin Thursday promotion where free spins will be credited on the game Winterberries. Please take into consideration the following T&C's. The Free Spins Bonus Cards promotion will run between Thursday 00:01 - 23:59. The time format for this gameplay is CET. All games played outside the advertising period are not included. Three Free Spins Bonus Cards will be added up to each shoe during the advertising period. The value of each bonus card adds up to 25 Free Spins on the designated game. A player may be awarded a maximum of 100 Free Spins from four bonus cards in the course of a single night. The maximum amount of Free Spins a player can secure during each promotional period is 100 with only the first four bonus cards. A player will be granted the Bonus Card Free Spins in spite of the outcome of the hand. Free spins cannot be substituted for cash and cannot be reassigned to another game. All free spins will be endorsed before 3 pm the following day.
Put on your Christmas suit while you celebrate the final days of the holiday season at Leo Vegas Casino. We wish you a Merry Christmas and a Happy New year!