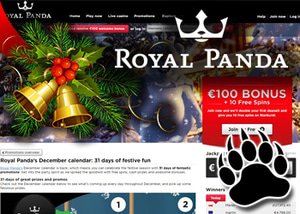 Royal Panda Casino has begun their 31 days of promotional giveaways for this year's Christmas activities. Each day in the month of December will have a different prize up for grabs and with an increase in 10x more rewards then last yea, then it is sure to be a festive success. Prizes range from reload bonus offers, deposit bonuses, free spins, cinema vouchers, cash prizes, iPad giveaways, PlayStation 4 Pro and many others.
Each of the bonuses or free spins will be credited to accounts the following day after being won and all prizes have different requirements on particular days, so be sure to read carefully to avoid missing out on any of the qualifications and goodies offered.
A few special days to watch for include Day 9. This is for the Highest Combination, with the player having the largest combination of any three selected games will be the winner. Game play must be concluded prior to 23:59 (CET). In the event that more than one player has equal scores, the player who recorded the wins first will be the decided winner.
Another great day to watch is Day 11. It requires play on their desktops to win free spins on their mobile account. Day fifteen, another special day in the Royal Panda Christmas giveaway will see your deposit returned back to you the following day should you not win, and Day eighteen has punters accessing their mobile accounts so that free spins may be received on the desktop account.
There are many other fabulous days to look forward to such as Day 13, it will see those liking Casino Royal Panda on their Facebook page will see ten players rewarded with $50.00 cash prizes. Playing Hall of Gods on the 14th of the month will reward you with fifty free spins and playing Game of Thrones and being the one with the highest combination of wins will reward you with a Game of Thrones Blu-Ray Box Set.
Regardless of the day, the terms and conditions for the Royal Panda Christmas bonus will determine how the prizes are won. Every day manages to remain fun and exciting during the holiday season, and welcome bonuses have been alternated. New players will have their first deposit matched up to $100.00 and will instantly be qualified for the Celebrate Christmas promotion. Royal Panda is available to Canadian and European players and includes many no deposit bonuses, special perks, free spins, bonus codes and more. Register today to begin reaping the rewards.