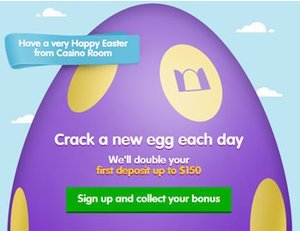 The newest promotion at CasinoRoom is a massive Easter egg hunt with great prizes for players to win.
Easter is known for lots of food and lots of fun activities like Easter egg hunts. Nobody really has a good explanation for why the Easter bunny brings eggs of all things, but at CasinoRoom right now, they're giving you value with an Easter egg hunt anyway. Take advantage of this cool leaderboard competition for chances to win all kinds of different prizes.
To start off, you can get a set of free spins each day from March 30 through April 6 by going to the promotions page and cracking open your Easter egg. Winnings on free spins have to be wagered through 45 times before you can cash out. On top of that, you can take advantage of a fun leaderboard promotion by depositing with the EASTER coupon code to get in on the action. Free spins, smartphones and more are being given away in this leaderboard competition.
First place will get an iPhone 6 in Space Gray with 64 GB or a Samsung Galaxy 6S in Black with 64 GB. Second through fifth get 400, 300, 200 and 100 free spins, respectively, on Wonky Rabbits. If you're sixth through 10th, then you'll get 50 free spins on Eggomatic. That will be 40 free spins on the same game for 11th through 20th, 30 for 21st through 30th, 20 for 31st through 40th, and 10 for 41st through 50. Players in the top 50 get a prize, and you could win as many as 400 free spins, which is just a crazy level of value.
CasinoRoom is known for its large game selection that it's able to offer thanks to deals with a number of different software providers like Yggdrasil, Aristocrat and others. This selection of titles gives players more options than a lot of the competition, and when you add that to the awesome offers and promotions that they put on regularly, then it's hard to argue against them being one of the premier online casinos for players to frequent. Come get in on the action with your free spins and this leaderboard competition to get your shot at a new smartphone now.