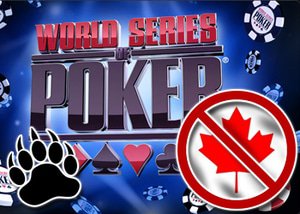 For the third time in their illustrious 12 year old history, the World Series of Poker Circuit calls on its Canadian neighbors to join in the fun and festivities.
It has just been announced that the Casino de Montreal and Espacejeaux.com, are invited to host one of the Spring 2016 WSOP events in Canada.
As a late addition to their 2015/2016 schedule, it was announced that a stop at the Casino de Montréal in co-operation with Espacejeaux.com will take place at the Spring 2016 WSOP events between April 20, 2016 - May 1, 2016. Accordingly the number of events will be slightly modified.
Casino de Montréal Stop Modified For Spring 2016
For the Casino de Montréal Stop, instead of the customary 12 events, there will be 10. These will take place across 12 days, with each one being awarded one of the special WSOP Circuit signature champion rings. The final two events are to be hosted online at Espacejeux.com between May 7, 2016 and May 8, 2016, and the winners will also be graced with a coveted Circuit Champion ring.
It has now been two years since the WSOP were last in Canada. The first tour ever to make a Canadian Stop was in 2012 at the River Rock Casino in Vancouver, B.C. and was well received by the area's large local Poker community.
The following year saw the schedule take in two Canadian Stops this time. 2013 would see the WSOP Circuit return back to the River Rock Casino, then head onwards to Casino du Lac-Leamy in Gatineau, Quebec. Since that time for some reason Canada has not appeared on the schedule, that is until now. Canada has finally been included again.
Head of Operations for the Société des casinos du Québec and General Manager of the Casino de Montréal Mr. Kevin Taylor said "We are very proud that the WSOP, the organizer of the biggest poker event in the world, has selected the Casino de Montréal for this event and places its trust in us to manage such a high-calibre poker event."
The Spring 2016 WSOP events will be great timing for players making their way for the Circuit Stop, as it most likely will be followed by yet another premier Poker series nearby. Now out of towners have even more reason to come visit Montréal and this can only bode well for Poker Players and Tourism. Let's bring it on!