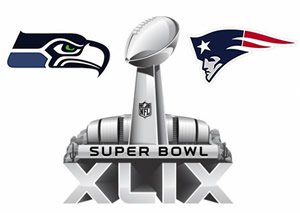 When Canadians sit down for their betting analysis of the Super Bowl this upcoming Sunday between the New England Patriots and Seattle Seahawks, they may indeed find themselves split on a geographical basis.
It's is a funny thing to say considering that these are a couple of teams from the United States, but with less than a week before the 2015 Superbowl, Canadians have regional loyalty that impacts which teams fans will not only cheer for, but also bet on.
The Seahawks, coming from the Pacific Northwest, are going to be favorites in British Columbia for certain, and their appeal may even go beyond that. It's not so much that this team is likable by nature; indeed, cornerback Richard Sherman might rub some people the wrong way. But let's just say they haven't been good enough for long enough to build up the kind of ill-will that has staying power.
That distinction unquestionably belongs to the Patriots, where the Bill Belichick-Tom Brady combination has now been to the playoffs eleven times together, and will be seeking a Super Bowl title for the fourth time. Are the Patriots well-liked along the Eastern seaboard? Well, the case can be made that they are despised; most certainly those in parts of Toronto close to Buffalo have a very low tolerance level for them, as do fans in the New York City area, as well as Miami.
But the dislike for Belichick in particular is something that doesn't really find a geographical bias, and the latest episode that is grabbing all the headlines these days - known conveniently by the press as "Deflategate," is not doing anything to assuage any of the feeling that he is someone who bends the rules a little too far. Belichick has been a target for this kind of talk, ever since he allegedly had spies watching the St. Louis Rams work out and cataloging their plays before Super Bowl XXXVI.
Bet the Seahawks Inspect the Game Balls? Seriously.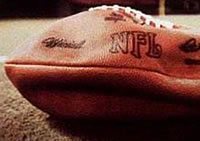 With so much media attention on "Deflategate," most of the Canadian online sports books have featured an interesting prop bet where you can bet that the Seahawks will ask officials to inspect the game balls before kickoff. Think it will happen? Unlikely considering the attention that this scandal has affected the league. But Sports Interaction offers 11 to 1 odds that they do (and a measly 1.01 odds they don't).
In this year's post-season, he has been a lightning rod for controversy. In the Divisional Round of the AFC playoffs against the Baltimore Ravens, he repeatedly employed formations in which certain running backs and/or receivers were ineligible, with tackles eligible, and made these switches before Ravens coach John Harbaugh had time to react, and (according to Baltimore's side) without sufficiently informing officials, which is required. And of course, in the AFC title game, a 45-7 romp over the Indianapolis Colts, the Patriots reportedly deflated the footballs they used in the game, below those levels that were acceptable by the NFL. The fact that the league allows teams to bring their own footballs into a game would seem to indicate that, to a certain extent, they could "tailor" them toward their liking, and when you get past the sensationalism, in which some media members even called for Belichick's suspension, there isn't really a huge issue here. Still it does reinforce his reputation as the coach folks love to hate. His curt demeanor in press conferences doesn't help that image much. And it presents a contrast with Seattle coach Pete Carroll, who is decidedly warmer and more open.
Two Canadians in the 2015 Superbowl
But there are other reasons for Canadians to put some of their loyalty - and their money - behind the Seahawks, including the fact that they have a couple of countrymen to root for.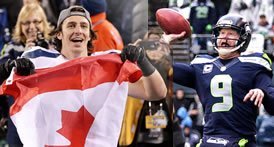 And there will be not one, but TWO Canadian natives playing in the Super Bowl for the Seahawks. The Seattle coaching staff certainly hopes they see a lot of Jon Ryan, not necessarily in his principle role as the team's punter, but as the holder for extra points and field goals. Ryan, an alumnus of the University of Regina, etched his name into the record books in the NFC Championship game by throwing a touchdown pass on a fake field goal, not only becoming the one and only punter to do that in an NFL post-season game, but also becoming the first Canadian to throw a TD pass in the playoffs since Mark Rypien of the Washington Redskins.
There is also no question that tight end Luke Willson, a native of LaSalle, ON who went to Rice University in Houston, is being counted on to play a pivotal role for the Seahawks, especially as Zach Miller, the regular starter, was lost for the season with an ankle injury.
Willson has been listed at +9400 this week to win the Super Bowl MVP award, and he is +1700 to score the first touchdown. That is just part of the virtual plethora of Super Bowl propositions that are available from Sports Interaction. Are you interested in who is going to win the coin toss? That is definitely a proven favorite. What about the odds on whether the Seahawks will demand those footballs be inspected? You might be very interested in that. And oh, by the way, the Patriots, as of Monday night, were favored by a point and a half in the game itself.
Wanna Bet Katy Perry Kisses a Girl On-Stage?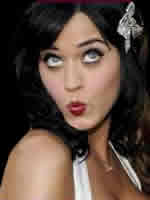 If you're interested in getting in on all the Super Bowl fun, you should know that Sports Interaction has increased their signup bonus to 100% up to $200. That gives you some value to work with, and puts you in a position where , if you spread your bankroll around, EVERY play on Super Bowl Sunday could be a meaningful one for you! Even outside of game-play, there are some very interesting Superbowl prop bets. Will Katie Perry kiss another girl during her on-stage performance? Will Bill Belichick kiss Linda Holliday on or off the field? What Lenny Kravitz... will he wear a scarf during his performance?
Dozens of Superbowl Sports Bets in 2015
There are dozens and dozens of online sports bets for Canadians to bet on this year's Superbowl and Sports Interaction has 'em all. Grizzly Gambling has compiled a list and produced it's very own PDF for our visitors to download the 2015 Super Bowl prop bets PDF available right now at Sports Interaction.
Good luck Canada!