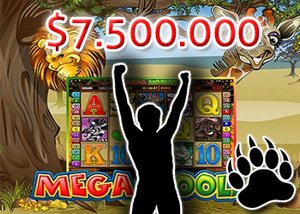 A Canadian player has won $7.5 million from the progressive jackpot on Microgaming's hugely popular online slot machine Mega Moolah at Crazy Vegas Casino.
Progressive jackpots give players the chance to take home an ever increasing amount of money from exciting and engaging games such as this recent win on Mega Moolah. This wild African themed slot machine Mega Moolah gives players the chance to spin and win with up to 25 pay lines and an adjustable bet scale in a well known five reel build. Users are free to chase the elephants, giraffes, lions, zebras, and more as they also pursue the big win.
Life Changing Amount of Money
Now a Canadian player is taking $7.5 million from Microgaming's well known game as hosted at their partnered online casinos, such as Crazy Vegas where this win happened. The regular player has not been publicly named yet but their takings are more than double the last large jackpot that was hit, a comparatively small $3.3 million back in November of 2014. The record win on this game made someone's holiday season one to remember in December 2012 as they took home a life changing $9.49 million.
Now that the Mega Progressive has been triggered, it will be reseeded with $1 million and start building again as each bet placed on a spin builds towards making another multi-millionaire. Overall, there are two large and two small progressive jackpots rolling on this game, each with their own unique trigger requirements so there's still plenty of money for others to roll for as the biggest prize grows. The Mega Jackpot grows the largest with a less common win rate and is followed by the Major which comes up more often.
Both of these larger prize pools are shared not only by the Mega Moolah core game but can also be won by Microgaming's spin off versions which include Summertime, 5 Reel Drive, Isis, as well as the themed game The Dark Knight. The smaller prizes, the Minor and Mini, are typically won several times each day for considerably smaller prize amounts. Many levels of cash rewards are available for every level of online gambler all across Canada at Microgaming's partnered sites.