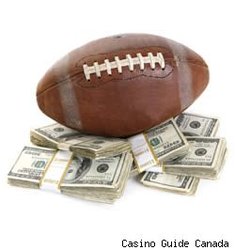 When it comes to the gambling world, politicians have to learn to keep up with the times.
There has been much talk of reforming the current sports betting law in Canada, which limits the activity that a consumer can take part in with regard to sports gambling within the nation's borders. The way it stands right now, Canadians can only wager on a series of at least three events at once. In other words, only "parlay" betting is legal and authorized.
But Bill C-290 has been lingering out there, and its intention is to change that situation, which has proven to be outdated and not responsible to the changes that have happened in the marketplace. If the bill is passed, it would permit Canadians to place "single-game" wagers on sporting events in land-based casino venues, and one imagines that there could be an expansion of online gambling sites sanctioned and regulated by provincial governments that would allow the same kind of wagering.
But first it has to pass, which means it still has a ways to go.
When Parliament was prorogues, or discontinued, on September 13, all the bills that were not passed through the Senate signed by the Governor General were terminated. But there was a private introduction of C-290 by MP Joe Comartin in 2011; he is part of the NDP and not the Conservative government. As such, under procedural custom, his bill was not eliminated by the Senate. So it was still in play when the Parliament re-convened on October 16.
What this means is that the bill, which had gotten to a final reading in the Senate before being held up, does not have to start from scratch; those who want to push C-290 can essentially pick up where it left off. And through the proponents are still looking at an uphill battle, it's not a bad place to be.
As for what brought this bill forward to begin with, you can chalk some of it up to the influence of online gambling, for certain. That is because Canadian citizens have the opportunity to play at online gaming sites, and that enables them to make wagers on sporting events in sportsbooks, and of course, there are no restrictions whatsoever on those, since there is no apparatus in place that prohibits online gambling operators from offering their services to Canadians. As a result, the government, which runs these sports betting games, finds itself unable to compete for the business that ultimately produces tax dollars.
No pro-gambling reform is ever discussed unless it begins as an attempt to make up for what is perceived as a "lost" amount of tax revenue, and in this case, Comartin and the others who are behind the bill are claiming that they could levying taxes on billions of dollars, and that the money is leaving the borders and going offshore to those operators. Whether that evaluation is accurate or not is a subject for legitimate debate, but there is no question that sports betting carries with it an awful lot of popularity.