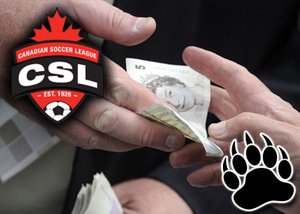 The British Daily Telegraph has brought Canadian Soccer League match fixing to the public eye with a report saying that 42 per cent of this year's top tier matches could have been fixed and have shown signs of suspicious betting activity.
Allegations of match fixing are begin taken against the Ontario based Canadian Soccer League after a report on the league was leaked by British tabloid, The Daily Telegraph. The report on the league was created by the International Centre for Sport Security and was a 31 page document based on the Canadian Soccer League (CSL) 2015 Season. The report included allegations that all 12 of the league's first division teams took part in at least three suspicious matches between May and early September and that 42 per cent of the matches showed signs of suspicious betting activity. According to the Telegraph this resulted in an estimated 4.5 million pounds in potential profits.
The article is "sensationalized" is the response from Canadian Soccer League chairman Vincent Ursini, who has yet to see the ICSS report. He official response was, "It (match-fixing) going on? I don't know. Can it be going on? Yes. But I can't say it's going on, I can't say it's not going on because it's not a fact."
Ursini stated that no one at the league is involved and their focus in on developing youth players in Canada and they bring any allegations of match fixing to authorities straight away. Ursini went on to say that the allegations surrounding the private semi-professional league and its involvement in one of the Europe's largest match fixing investigations were dismissed eight months ago. These were the allegations where fixer Ante Sapina admitted to rigging a match in 2009.
The CSL was expelled from membership of the Canadian Soccer Association in early 2014 when they failed to fulfil their member obligations and violated the association's rules and regulations. Ursini has stated that the league did not violate the rules but he is prohibited from commenting due to arbitration on the case. On speaking about the report in the Telegraph, he said that he thinks it's a good thing that some bookmakers are no longer offering markets on the competition and that he would prefer if all gambling on the Canadian league was shut out so that there would be no issues.
The ICSS have confirmed the existence of such a report and they stated that it was written for law enforcement and sports investigators. A statement by their spokesperson said, "whilst it is regrettable that this intelligence report has been made public, this apparent conspiracy has grave ramifications for organized sport and sport betting well beyond the mere cumulative size of the frauds."
They went on to say that the alleged corruption of the league has likely been led by organized crime groups based in Europe involving a complex network of individuals within the League and most likely Asian based illegal sports betting operators. This includes allegations of wholesale match-fixing, betting fraud and money laundering.
The report was submitted to national and international authorities, including the RCMP and Canadian authorities, Interpol, Europol and FIFA.