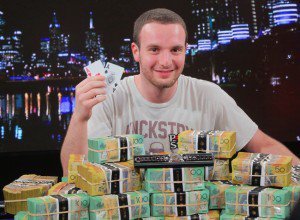 For the first time in the tournament history a Canadian has won the main event of the Aussie Millions poker tournament.
The 2014 event is a premier poker series in the Asia Pacific region. It attracts millions of players from around the globe because it is the largest tournament in the beginning of the poker season. The tournament began on January 23rd and the final hand was played on February 9th. Ami Barer is the first Canadian to win this tournament. Barer has walked away with the gold bracelet and $1.6 million cash prize.
The final table consisted of two Canadian poker players who managed to eliminate the 5 other challengers until it came down to the two of them. The final table consisted of the two Canadians, Amy Barer and Sorel Mizzi, one Australian and four American players. The final jackpot was large because of the 688 players who entered the Aussie Millions tournament. When it was only the two Canadians left playing Barer was the chip leader with twice the amount of Mizzi's stack. Barer was sitting comfortable at 13, 850, 000 chips to Mizzi's 6, 150, 000.
Mizzi went all in on the final hand with a Queen and eight of diamonds in the pocket. But Barer called the bet with his pocket Aces. Mizzi did not have any luck on the flop, turn or river while Barer was able to form a full house and end the tournament. This is another big win for Canadian players on the international poker stage. Early bets are on another great poker season for Canadians!