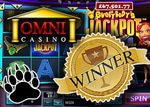 Progressive jackpot winners are extremely lucky, and while most select to remain anonymous, we are reporting on DG26's sensational win of CA$285,409.89.
While enjoying some great relaxation at Omni Casino, the player triggered the Everybody's Jackpot on the 8th of November, 2016. The casino was delighted, and congratulated the Canadian winner in its newsletter and shared that the lucky player forwarded the casino with a picture of himself enjoying his favorite online game.
DG26 had lots to say about Omni Casino, where he is a member, including that the customer services impressed him with unfailingly friendly, helpful, and attentive service and he praised the gaming range. DG26 also said that veteran online players will appreciate a Canadian players assessment and that Omni Casino is responsive and reliable. After giving great compliments to the casino the player from Canada talked a bit more about the massive win and shared that he was totally blown away and found it quite difficult to believe his luck until the casino confirmed it. The lucky Canadian player closed off by saying that it goes to show that a massive win is quite literally only another spin away.
Playtech's Most Played Progressive Jackpot
Everybody's Jackpot is one of the most played and preferred progressive jackpots created by Playtech casino software, the game offers a brilliantly created jackpot that permits several players to enjoy each triggering of the progressive jackpot. Playtech online casino software also added an exceptional variety of other bonus features to Everybody's Jackpot, which includes free spins triggered by a minimum of 3 scatter symbols and a fixed wild enhance winning chances during the 12 free spins awarded in the bonus feature.
Everybody's Jackpot presents play on 9 reels each operating independently and 8 paylines that pay diagonally, vertically and horizontally and the progressive jackpot triggers at random. Once it triggers in the duration of the main game, the fortunate winner takes 70% of the jackpot amount home, and the remaining 30% is left to other player's part of the winning structure. Distribution of the 30% includes players who placed bets in the 24-hour period before the jackpot triggered, and the 50% of the balance are equally divided to players according to wagering.
New Bonus Announcements At Omni Casino
Omni Casino's newsletter, called the Omni Times, announced some brilliant bonus offer for the week ahead starting on the 15th of November players gets to enjoy progressive Super Tuesday bonuses. Powered by Playtech, Omni Casino offers an impressive variety of games, and players can now enjoy additional chances to reel in massive wins with Tuesday's first deposit of $50 receiving a 75% free bonus up to $75, second deposits are welcomed with a match bonus of 125% up to a maximum of $125 and a third deposit worth $50 unlocks a 150% free bonus up to the value of $225.00.