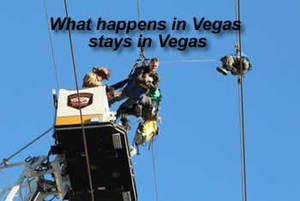 Recently a Canadian casino tourist found out the hard way that it may be a better idea to stay at home to get the thrills of Las Vegas.
On January 2nd a tourist from Canada decided to try out the zip line of Slotzilla Zoomline at the Freemont Street Experience, which is a part of the historic Golden Gate Casino, that operates slot machine themed rides. Well, he did get an experience, but not one he bargained for, as he was suspended in mid air for almost an hour.
The name of the man was not disclosed and he was suspended over 100 feet in mid air after the zip line was stuck. On the website for Freemont Street Experience it promises that the zip-line experience "is guaranteed to quicken your pulse and absolutely rock your world." The tourist definitely had his world rocked, big time, being suspended over 100 feet for nearly an hour.
The Slotzilla Zoomline costs $40 and it begins more than 10 stories high and takes people 1,750 feet taking them past the entire Fremont Street Experience before landing at a platform at the Golden Gate Casino.
The Las Vegas Review Journal stated that a pedestrian on the ground called Las Vegas Fire & Rescue at 2:34 p.m. to say that a male was stuck on the zip-line above 4th street since 2 p.m. The Las Vegas firefighters retrieved the man with a bucket that was connected to the arm on the rescue truck. The man did not have any injuries and Lauren Silverstein, who is a spokesperson for the Fremont Street Experience, stated that the company will perform an investigation on the accident and they, "will do everything to ensure that this problem will not happen again."
While Las Vegas has so much to offer such as great casinos and many attractions, such as the Slotzilla Zoomline it is still much safer to stay at home and gamble, as the Canadian tourist found out the hard way. Why travel to Sin City when you can gamble online at such places as the reputable online casino Jackpot City? Better yet, look for an exclusive no deposit bonus you can claim right here from Grizzly Gambling.
Jackpot City has over 400 games available including all the classic ones such as slots, blackjack, roulette, video poker, and much more. There is instant play and download versions of the casino, a great Welcome Bonus of $500, fantastic graphics and sounds, and 24/7 customer service including Live Chat. Jackpot Casino has top-notch player security and playing from home you can have a ton of fun and all this not only from the comfort of home, but also on terra firma.