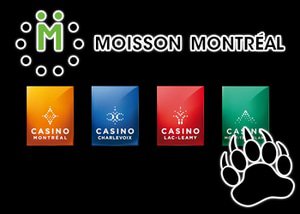 On September 23, 2015 The Casino de Montreal presented Moisson Montreal with a $25,000 check.
The money came from among others, a variety of low value slot machine tickets mainly $0.05, $0.10, and $0.25 that had been discarded by patrons of the Casino de Montreal. This coincided with this year's edition of the Par pur plaisir... de donner! Day; the Canadian Casino Employees annual volunteer activity, run by the Société des casinos du Québec (SCQ).
Organised within the framework of the partnership structure of "4 casinos, 4 Moisson," this annual day allows all Canadian Casino employees of all four provincial casinos along with the SCQ headquarters, to participate in the drive outside of working hours, in a massive fundraising operation for the good of the four partaking Moisson food banks.
40 Employees in Attendance as Operations Start
The President of Operations for the Société des casinos du Québec Mr Claude Poisson along with spokesperson for Quebec's Casinos Mr Gregory Charles, started their employee engagement and encouragement tour at approx.10am where there were 40 employees in attendance from the Montreal Casino.
At 2pm the pair then headed up to one of the Casino du Lae-Leamy area's grocery stores, where the employees had pre-planned a food drive for the benefit of Moisson Outaouais.
At 4.30pm the tour then continued to a grocery store in Saint-Jovite, where they met up with employees of the Casino du Mont-Tremblant, who are also associated with Moisson Laurentides.
Lastly the volunteers of the Casino de Charlevoix got the opportunity to roll up their sleeves and help out the Service alimentaire et d'aide budgétaire de Charlevoix-Est, otherwise known as SAAB, who are affiliated with Moisson Saguenay.
"4 Casinos, 4 Moisson" - All Is Alive And Well!
Executive Director of Moisson Montréal Dany Michaud said how proud they were of each of the 4 Quebec casinos and their concrete gestures made for each food bank in their particular region.
Initiated in 2014, The goal was to keep the partnership thriving in 2015 and to all intents and purposes that had been accomplished and "4 Casinos, 4 Moisson" was alive and well.
Almost 200 Canadian casino employees gave of their time for The Par pur Plaisir... de donner! Day. In total mainly through donations, Moisson Montreal redistribute 13 million kilos of foodstuffs. This represents a total value of almost $61million and food assistance is provided to 10,000 children up to 5 years old.