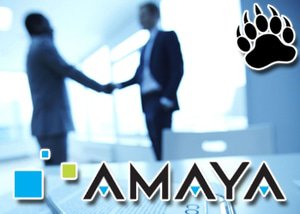 It has been a bit of a roller coaster ride for Canada's Amaya Inc. (NASDAQ: AYA) (TSX:AYA) with the company shares experiencing drops in price along with rapid increases.
The driving force behind this encompass the uncertainty of whether they will be taken over by their CEO and become a private entity. There is also the question if all appears as it seems. Has there been any insider trading and what is the long-term viability when it comes to the online gambling industry?
A volatile Company Can Cook Your Goose - True Or False?
Some folks are of the opinion that it is best to stay away from volatile companies, but whilst there may be considerable merit to this train of thought, there is also the argument that it is through uncertainty that investors can make considerable gains. Where there are those who avoid it, there are others that look at it as a chance to capitalize and make a quick return, especially when it comes to looking at Amaya Inc. stock.
Whilst David Baazov CEO has agreed to move aside due to recent allegations, the company and their prospects still remain strong. Firstly Amaya themselves have not been implicated so there are no negative connotations that shareholders need to worry about, secondly online gambling is growing at a rapid pace of knots with no end in sight, indicating the company still have a considerable amount of growth ahead of them.
Looking at their full-year results for 2015, they announced that they had seen an 8% revenue gain year over year to $1.37 billion. Whilst this might not seem anything to shout about the point to take here is that the growth started small and escalated with each quarter. The Q4 for 2015 was 15% above that over the Q4 of 2014. Yearly adjusted net earnings came in 18% more than that of 2014 with net earnings 27% greater. This is consistent growth with the company growing faster as each quarter goes by.
One of the main reasons for this is to do with their non-Poker games. As this revenue stream decreases so their casino and sportsbook operations pick up the slack. With the trend continuing, earnings will surely continue to increase. With the addition of ongoing live events, branded Poker rooms with their sponsorship opportunities, ongoing development of their fifth largest fantasy team site, and PokerStars given permission to operate in New Jersey from March 2016 with other states bound to follow, the future looks rosy. Maybe buying Amaya Inc. stock now is not such a risky proposition after all!